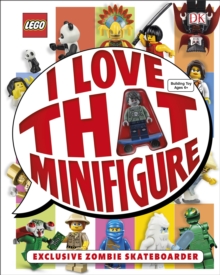 Description
Meet the most sought-after LEGO[registered] minifigures of all time, I Love That Minifigure brings together 200 of the coolest, rarest and most collectable minifigures.
I Love That Minifigure is your indispensable guide to the LEGO[registered] world's unique characters.
Whether you want to check your collection or read-up on all your favourite LEGO[registered] minifigures, I Love That Minifigure covers more than 35 years of LEGO history, and comes with its own new and exclusive LEGO minifigure for your collection.
Find out the key features of each minifigure, their original availability and rarity rating perfect for any budding LEGO minifigure collectors.
Free
Standard Delivery

Within the UK