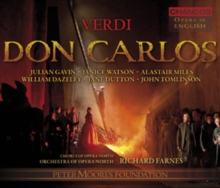 Track Listing
Disc 1
Act II: Prelude

Act I: Charles the Fifth, Our Mighty Lord

Act I: And I Have Lost Her!

Act I: There He Is! The Prince!

Act I: But the King Has Not Yet Discovered Your Secret?

Act I: God Who Has Brought Us Together

Act I: Where the Pine Grove Is Green and Shady

Act I: In the Marble Palace of the Moorish King

Act I: The Queen!

Act I: I'm So Eager to Hear the News You Bring

Act I: Carlos My Friend, Hope of Our Future

Act I: I Come Before the Queen and I Ask for a Favour

Act I: Here Where I Stand Let the Earth Crack Asunder

Act I: The King!

Act I: Don't Weep, My Dear Companion

Act I: Remain Here! I've Seen You at My Court

Act I: O King, I Come Here from Flanders

Act I: What Kind of Peace Is This You Give Your Subjects?
Disc 2
Act II: Prelude

Act II: At Midnight in the Garden of the Queen...

Act II: Alas Your Youthful Mind Has No Idea

Act II: Now He Has Scorned the Love I Gave Him

Act II: Treacherous Son, Adult'rous Lover

Act II: Today Is a Day of Gladness and Joy

Act II: Let the Sacred Doors Now Be Opened

Act II: O Heav'n! It's Carlos!

Act II: Sire! I Have Something to Ask You!

Act II: O Heav'n!
Disc 3
Act III: Introduction

Act III: She Has No Love for Me!

Act III: I'll Only Sleep When I Am Laid to Rest

Act III: The Grand Inquisitor

Act III: In This Land of Spain No Heresy Has Thrived

Act III: Your Highness I Ask for Justice!

Act III: You Know Full Well, My Hand Was Plighted

Act III: Accurst Be This Hour

Act III: Forgive! Forgive and Pardon a Woman Who's Wronged You

Act III: Oh Cruel Fate. Oh Hated Gift

Act III: I'm Here My Carlos

Act III: My Last Day Has Dawned Forever

Act III: But Why Do You Speak of Death?

Act III: O Carlos, Now Listen, Your Mother Awaits You

Act III: Now I Die, Die Contented

Act III: My Son I Return You Your Sword

Act IV: Introduction

Act IV: You, Who Spurned and Renounced All the World

Act IV: France, My Noble Land, So Dear to Me in Childhood!

Act IV: She's There!

Act IV: We Shall Meet Not in This World

Act IV: Yes, for Ever! A Double Sacrifice Is Needed!
Information
Format:

CD / Box Set

Label:

Chandos Opera In English

Genre: Classical
Release Date:

26/10/2009

Running Time (minutes):

167.19

Number of Discs:

3

EAN:

0095115316221
Free
Standard Delivery

Within the UK