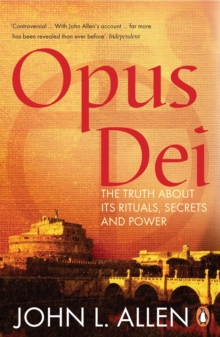 Opus Dei : The Truth About Its Rituals, Secrets and Power
Paperback
Description
Opus Dei is one of the most talked about but least known religious organizations of our time.
For years no one has been allowed access to its secrets.
Until now. Here, Vatican insider John Allen uncovers its true nature.
Granted unlimited access to those within its ranks, gaining a wealth of interviews with the heads of Opus Dei around the world, Allen finally separates the myths from the facts: the actual use of whips and the cilice; the true extent of Opus Dei's funds; the identities of its influential members in politics, banking and high office; and how much power this shadowy group really has.
Definitive, persuasive and absorbing' - "Daily Telegraph".
Focuses on some of the most controversial aspects of the organization, from its treatment of women to its recruitment and its money' - "Independent".
He reports on all aspects of the Opus Dei cult (including structure and finance, and the practice of mortifying the flesh with a cilice) and, most usefully, includes details of the bishops and personnel around the world who are Opus Dei clergy' - "New Statesman".
An admirable book the first stop for anyone interested in [Opus Dei]' - "Sunday Times".
Free
Standard Delivery

Within the UK