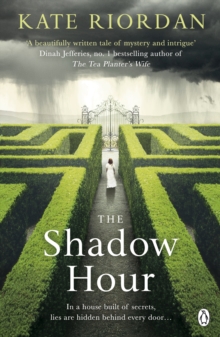 The Shadow Hour
Paperback
Description
It was in the shadow hours of deepest night that this tapestry of lies fell to rags ...Harriet Jenner is just twenty-one when she walks through the gates of Fenix House.
Reeling from a personal tragedy, she doesn't expect her new life as a governess to be easy.
But she certainly does not foresee the spell Fenix House will cast. Almost fifty years later, Harriet's granddaughter Grace follows in her footsteps.
For Grace, raised on Harriet's spellbinding stories, Fenix House is a fairy tale; a magical place suspended in time. But the now-faded grandeur of the mansion soon begins to reveal the holes in Harriet's story and Grace finds herself in a place of secrets and shadows.
For Fenix House hides truths about her family, and everything that she once knew is about to change. The Author Kate Riordan is a writer and journalist.
She started out as an editorial assistant at the Guardian, followed by a stint as deputy editor for the lifestyle section of Time Out.
Kate's first novel, The Girl in the Photographpublished in January 2015.
Kate is now a freelance writer and lives in the Cotswolds where she is currently working on her third novel. Praise for The Shadow Hour 'I was immediately drawn in by this beautifully written tale.
I loved the sense of intrigue and the air of mystery at Fenix House, and was itching for answers as the two narratives unfolded' Dinah Jefferies author of The Tea Planter's Wife 'A perfect gothic, big-house mystery that kept me turning the pages.
Very well written - I really enjoyed it'Katherine Webb 'I'm a sucker for unreliable narrators, crumbling country houses stuffed full of secrets and a story that veers between the present and the past, so it was a delight to curl up with The Shadow Hour over the course of a rainy weekend' Red Online 'It's wonderful - the dark suspense and evocative descriptions are perfect' Liz Fenwick, author of Under a Cornish Sky 'We loved last years The Girl in the Photograph and this latest atmospheric saga is just as thrilling' Essentials 'The parallel stories of Fenix House governess Harriet Jenner and her granddaughter Grace had me absolutely gripped. Intelligent, poignant, unexpected: highly recommended' Louise Candlish, author of The Sudden Departure of the Frasers 'Beautifully written and utterly compelling, I loved this' Katie Fforde 'Gorgeously written - I was instantly drawn in to the mysteries of Fenix House and Kate's evocative storytelling held me rapt until the very end' Lucy Diamond 'Full of dark intrigue, rich description and haunting secrets, this kept me reading and reading!
Beautifully written and compelling until the end. I adored it' Ella Harper, author of The Years of Loving You 'Headily atmospheric Victorian gothic detail brings to life the house which holds secrets and memories in its dim rooms, and conjures up a world of hot house flowers and stifled passions.
Certain images stay with you - Riordan richly juxtaposes a measured, scientific world of steam trains, comets and clocks with the wild: flooded quarries, ice storms, and the irresistible desire for love and revenge which defies rationality.
It's all in the detail - jewelled Indian daggers, sunlight on red gold hair, claustrophobic mazes and ice houses, and mysterious sounds in the night. From the utterly gripping prologue, The Shadow Hour transports you back in time, and shows how a few minutes here or there can catastrophically change a life' Kate Lord Brown, author of The Christmas We Met 'What a beautiful and evocative writer she is!
I adored the richness of her descriptions, the faint sense of menace just below the surface, and the huge skill with which she wove in clues, questions and little fragments of information.
It was a thoroughly absorbing read' Iona Grey 'The language is lyrical and yet accessible, the plot intricate but satisfying.
There is romance, period detail, and dark secrets. This book has TV adaptation written all over it! A great book-club read with loads to discuss' The Cheltonian 'I would recommend it to anyone who wants an intriguing mystery that will keep them reading all night!' YA Under My Skin 'A wonderful novel.
I loved the atmospheric setting and the way the mystery is built up, switching back and forth through time' The Owl on the Bookshelf 'I loved The Girl in the Photograph but I adore The Shadow Hour more, it has the perfect balance of tragedy and intrigue and all the storylines are woven together expertly. You don't want to miss this' Belle About Town
Information
Format:

Paperback

Pages:

528 pages

Publisher:

Penguin Books Ltd

Publication Date:

25/02/2016

ISBN:

9781405917445
Free
Standard Delivery

Within the UK