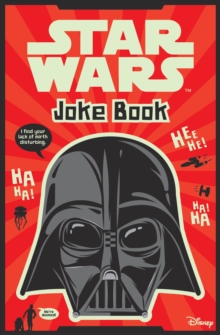 Star Wars Joke Book
Paperback
Description
I hear someone picked Yoda's pocket? Who would stoop so low? What did the rancor say when it ate the wookiee? Mmm ...chewy. It's comedy contest night at Jabba the Hutt's palace, and all of your favourite Star Wars heroes and villains have brought their best jokes.
Who will be the winner? You decide whether Obi-Wan Kenobi is actually funnier than Emperor Palpatine. Or if an ewok has more wit than a wookie. This book is sure to have even the darkest Sith laughing his head off.
Look out for other Star Wars activity titles: Star Wars Where's the Wookiee Search and Find Book; Star Wars Starfighter Workshop; Star Wars A New Hope Activity Book; Star Wars Return of the Jedi Activity Book; Star Wars The Empire Strikes Back Activity Book; Star Wars Doodle Book; Star Wars R2-D2's Droid Workshop: Make Your Own R2-D2; Star Wars Rebels: Rebels Rule Activity Book; and, Star Wars Transfer Activity Book.
Free
Standard Delivery

Within the UK