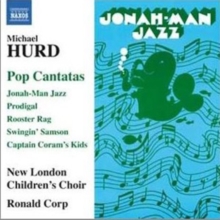 Michael Hurd: Pop Cantatas
CD / Album
Track Listing
Nineveh City Was a City of Sin

Jonah, Jonah, Listen to Me Jonah

I Need a Boat, Man

The Waves Grew High

When Jonah Sank Into the Sea

We Had a Wonderful Party

Many Years Ago

I Want to Go to the Big Bad City

In the City, Free and Easy

Down and Out in the City

Why Did I Leave the House of My Father

No Use Denying

Kill the Fatted Calf

It Was Long Ago

Once Upon a Time

Every Time I Lay an Egg

I Had a Terrible Dream!

Oh What a Beautiful Dream!

Do Me a Favour

There's a Thief in the Night

If I Were You

Beware! Take Care!

Samson Was a Hero

When Miss Delilah Goes A - Walkin'

Samson, Cut Your Hair

Clip and Clip

Weak As a Kitten

Ev'rybody Came to the Philistines Party

Who Are These Abandoned Children

Eight Were Duchesses

What Is the Humming

Take My Child

See the Foundlings at Work!

I Am a Little Foundling

Here in the Pleasant Court Room

Captain Coram!
Information
Format:

CD / Album

Label:

Naxos

Genre: Classical
Release Date:

07/02/2011

Running Time (minutes):

67.02

Number of Discs:

1

EAN:

0747313250578
Free
Standard Delivery

Within the UK