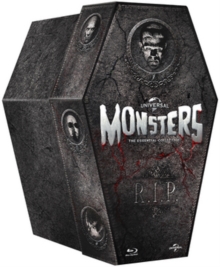 Monsters - The Essential Collection
Blu-ray
Description
Collection of eight classic Universal monster films.
In 'Dracula' (1931), estate agent Renfield (Dwight Frye) travels to Transylvania to arrange the sale of an English mansion to nobleman Count Dracula (Bela Lugosi).
When Renfield discovers that his host is a 500-year-old vampire, he is bitten and himself enslaved.
After arriving in London, Dracula tries to get his teeth into Mina Seward (Helen Chandler), an innocent maiden betrothed to Jonathan Harker (David Manners).
Vampire expert Professor Van Helsing (Edward van Sloan) attempts to put a stop to the bloodsucking.
In 'Frankenstein' (1931), scientist Henry Frankenstein (Colin Clive) has become alienated from his friends and bride-to-be through his obsessive determination to create life.
Frankenstein has created a monster out of body parts acquired by his dwarfish assistant, Fritz (Frye), and succeeds in giving it life during an electrical storm.
However, due to a mistake by Fritz, the creature possesses the brain of a killer, and after the dwarf torments it to breaking point Frankenstein's creation escapes and goes on the rampage, terrorising the local community.
In 'The Mummy' (1932), during a 1921 archaeological dig, the expedition members discover a sarcophagus in an unmarked grave.
It in fact contains the mummy of priest Im-Ho-Tep (Boris Karloff), who was buried alive 3,700 years ago as a punishment for attempting to bring a vestal virgin he loved back to life.
Returned to life, Tep adopts the garb of a modern Egyptian and goes in search of his former love, echoes of whose physical form he finds in expedition member Helen Grosvenor (Zita Johann).
In 'The Invisible Man' (1933), Claude Rains makes his (largely unseen) big-screen debut in this adaptation of H.G.
Wells' classic novel, directed by horrormeister James Whale.
When a bandaged stranger arrives in the English village of Ipping, taking rooms at the inn, he soon arouses the interest of the inquisitive locals.
Angered that he is not allowed to conduct his 'experiments' in peace, the stranger finally reveals his secret to the villagers, unwrapping his facial bindings to reveal... nothing. He is a scientist who has rendered himself invisible, and is now becoming a megalomaniac through the drugs he works with.
Not satisfied with playing pranks on the locals, the invisible man's actions now begin to take a murderous turn.
In 'The Bride of Frankenstein' (1935), scientist Henry Frankenstein (Clive) is recuperating from the events of the first film, believing his creation (Karloff) to have been destroyed in a fire, when he receives a visit from his former mentor Dr Praetorius (Ernest Thesiger).
Praetorius wishes Frankenstein to resume his experiments, but the latter refuses.
When Praetorius discovers the monster, alive and now able to communicate, he uses it to kidnap Frankenstein's wife, thus blackmailing him into creating a mate.
In 'The Wolf Man' (1941), having been educated at college in America, Larry Talbot (Lon Chaney Jr.) returns to his father (Rains)'s mansion in Wales.
After meeting Gwen Conliffe (Evelyn Ankers) in the local village, he escorts her to the fair.
She tells him the legend of the werewolf, but he laughs it off - even when gypsy fortune teller Maleva (Maria Ouspenskaya) and her son Bela (Lugosi) also tell him to beware.
Later in the evening Gwen's friend Jenny (Fay Helm) is attacked by a wild wolf.
Larry rescues her, but is bitten in the process. Sure enough, when the next full moon comes round, Larry finds himself transformed into the wolfman - a murderous creature which can only be destroyed by silver.
In 'The Phantom of the Opera' (1943), Enrique Claudin (Rains) is a mild-mannered violinist in the Paris Opera House orchestra.
He uses his income to pay for beautiful singer Christine DuBois (Susanna Foster)'s lessons - without her knowledge, as he worships her from afar.
However, tragedy strikes when Enrique believes that a publisher has stolen a concerto he has written, which represents his life's work.
Enraged, Enrique strangles the publisher, but has acid thrown in his face in the process.
Horribly burnt, he hides in the sewers beneath the Opera House, and, now half insane, devotes himself to furthering Christine's singing career.
Finally, in 'Creature from the Black Lagoon' (1954), an expedition exploring the Amazon River discover a 'Gill Man' - half man and half amphibian.
Thought by the team to be the missing link in human evolution, the creature is captured and kept under observation.
While in captivity it falls in love with the chief scientist (Richard Carlson)'s female assistant (Julie Adams), and kidnaps her before making its escape.
Information
Format:

Blu-ray

Region:

B

Certification:

(15)

EAN:

5053083015336

Catalogue number:

8301533

Studio:

Universal Pictures

Release date:

06/10/2014

Genre: Horror/Occult
Colour:

Colour
Free
Standard Delivery

Within the UK
Also directed by Tod Browning
|
View all