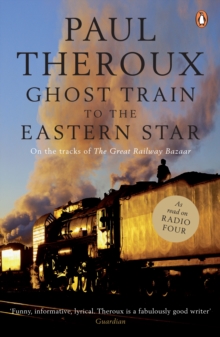 The Ghost Train to the Eastern Star : On the Tracks of 'The Great Railway Bazaar'
Paperback
Description
Return to "The Great Railway Bazaar" in "Ghost Train to the Eastern Star" as Paul Theroux experiences the journey that launched his travel writing career for the second time.
Thirty years ago Paul Theroux left London and travelled across Asia and back again by train.
His account of the journey - "The Great Railway Bazaar" - was a landmark book and made his name as the foremost travel writer of his generation.
Now Theroux makes the trip all over again to discover the changes that have swept the continents, and also learn what an old man will make of a young man's adventure.
Covering his journey through Eastern Europe and Asia, "Ghost Train to the Eastern Star" is a brilliant chronicle of change and an exploration of how travel is 'the saddest of pleasures'. "A brilliant eye, readable and vivid. Theroux has still got it". ("Observer"). "A dazzler, giving us the highs and lows of his journey with tenderness and acerbic humour...fellow travelling weirdoes, amateur taxi drivers, bar-girls and long-suffering locals are brought vividly to life". ("Spectator"). "Fans of Theroux are not likely to be disappointed. Theroux has great descriptive skill...the world is slightly less unknown by virtue of reading the book". ("Sunday Telegraph"). American travel writer Paul Theroux is known for the rich descriptions of people and places that is often streaked with his distinctive sense of irony; his other non-fiction titles, "Riding the Iron Rooster", "The Happy Isles of Oceania", "Sunrise with Seamonsters", "The Kingdom by the Sea", "The Tao of Travel", "The Old Patagonian Express", "The Great Railway Bazaar", "Dark Star Safari", "Fresh-air Fiend", "Sir Vidia's Shadow", "The Pillars of Hercules", and his novels and collections of short stories, including the James Tait Black Memorial Prize winner "The Mosquito Coast" are available from Penguin.
Free
Standard Delivery

Within the UK