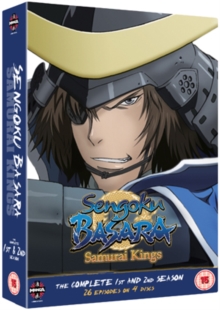 Sengoku Basara - Samurai Kings: The Complete Series 1 and 2
DVD
Description
All 26 episodes, including the OVA episodes, from the first and second series of the Japanese action anime.
In feudal Japan, a number of generals are locked in a bloody and seemingly endless struggle for power, but one man is proving to be the greatest threat of all: the dark lord Oda Nobunaga (voice of Norio Wakamoto).
Sanada Yukimura (Soichiro Hoshi) and Date Masamune (Kazuya Nakai), two young rival warriors, must form an unlikely alliance with the rest of the generals if they are to entertain any hope of bringing down the notorious Devil King.
Series 1 episodes are: 'Azure and Crimson, a Fateful Encounter!', 'Horrific!
Confrontation at Okehazama', 'Vagabond, Maeda Keiji!', 'Wavering Scarlet Flower - Loyalty That Brings Sorrow!', 'Brutal!
The Righteous Battle of Nagashino and Shitaragahara!', 'Bonds Torn Asunder - Mortifying Retreat for Masamune!', 'Marauding Villain!
Two Dragons Duel in Earnest Under the Moon!', 'Great Temple of Carnage!
Kojuro's in Dire Straits!', 'The Tiger of Kai Dies at Midaigawa!', 'Yukimura Beyond Recovery?!
The Date Army's Tearful Disbandment!', 'Mitsuhide's Betrayal!
Honnoji Temple Goes Up in Flames!', 'Azuchi Castle Keep - a Fight to the Death for Tomorrow' and 'Clash in the Inland Sea of Seto!
Fugaku, the Great Fire-Belching Fortress of the Sea!'.
Series 2 episodes are: 'Troubled Times Once Again! Advent of the Great Cataclysmic Warlord, Toyotomi Hideyoshi!', 'The Lost Right Eye...
The Dragon's Back Rent Asunder!', 'Keiji Vs Toshiie!
Tedorigawa Choked With Unequivocal Ideals!', 'The Ghost of Azuchi Castle?!
The Lamentation and Howl of Evil That Assail Yukimura!', 'Engraved Pledge!
The One-Eyed Dragon Vs the War God... Confrontation at Hitotoribashi!', 'The Menacing Toyotomi-Mori Alliance!
The Powerful Fist of Supremacy Cleaves the Sea!!', 'To the Southernmost Land of Satsuma!
A New Encounter As a Man for Yukimura!!', 'A Sad Reunion With a Friend...
Memory of the Day Etched With Blinding Obsession!', 'Dragon and Ogre...
Clash and Roar in Owari! The Combined Forces of Date and Chosokabe!!', 'The Young Tiger Restored!
The Great Fortress Rebuilt... The Menace of the Sun Heads East!!', 'Toyotomi's Great Main Army Dashes for Supremacy!
Earnest Keiji Draws Sword in Heartbreak!!', 'Azure and Crimson Do-Or-Die Battle!
To the Sound of the Breeze at the End of the Fierce Struggle!!' and 'Dragon and Tiger...
Oath of Victory! Souls Racing Towards a Blazing Future!!'.
Information
Format:

DVD

Region:

2

Certification:

(15)

EAN:

5022366527545

Catalogue number:

MANG5275

Studio:

Manga Entertainment

Release date:

17/09/2012

Genre: Unclassified
Colour:

Colour
Free
Standard Delivery

Within the UK
Also directed by Itsurou Kawasaki
|
View all