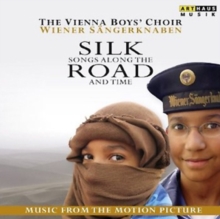 Track Listing
Disc 1
Wa Habibi (My Beloved)

L'homme Arme (The One Armed Man)

Josquin Desprez, O Domine I.II

Antonio Caldara, Ego Sum Panis Vivus (I Am the Living Bread)

Jog.wa (I Ask for Yoga)

Yulduz Usmanova, Shoch Va Gado (The King and Beggar)

Yulduz Usmanova/Gerd Schuller, Shoch Va Gado: Film Score

Sus Xatin (Lady of Water). Uzbek Rain Song.

Gerd Schuller, Sus Xatin: Film Score

Haq Ali (Truth Ali). Qawwali from Pakistan.
Disc 2
No. 4/5 Coro: Gratis Agimus/Propter Magnam Gloriam Tuam

No. 8 Alto E Coro: Domine Deus

No. 9 Coro: Qui Tollis Peccata Mundi

Veni Creator Spiritus (Come, Creator Spirit). Georgian Chant.

Tarakihi (The Locust), Maori Folk Song

Alamuhan. U'yghur Folk Song.

Field Hollers from Darg, Tajikistan

Guadifeng. Xiaodiao from Gansu

John Pond Ordway/Li Shutong, Li Ge (Song Bie). Farewell Song.

Kou-lueull Tsian. Craftsmen's Song from the Ordos Region, China

Gerd Schuller, Fau Dong Pe China Medley: Film Score

Die Post (The Mail)

Der Sturmische Morgen (The Stormy Morning)

Ievan Polkka (Eva's Polka), from Finland

Gerd Schuller, Terracotta Army. Film Score
Information
Format:

CD / Album

Label:

Arthaus

Genre: Classical
Release Date:

26/10/2009

Running Time (minutes):

68.20

Number of Discs:

2

EAN:

0807280402896
Free
Standard Delivery

Within the UK