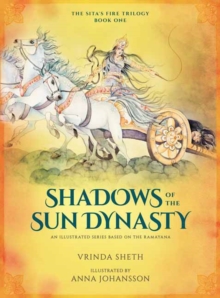 Shadows of the Sun Dynasty : An Illustrated Trilogy Based on the Ramayana
Hardback
Description
This deluxe illustrated novel adaptation of the Ramayana the classic Hindu epic pairs divinely inspired art with intimate portrayals of Rama, Sita, Lakshmana, Ravana, and many more. "A human son of the Sun dynasty will slay the immortal Ravana and usher in a new era of peace. . ." Welcome to the royal city of Ayodhya, an ancient realm ruled by the Sun dynasty, where peace reigns among its citizens while discord simmers behind the palace walls.
An ancient prophecy predicts that a son of the Sun dynasty will slay the immortal Ravana and defeat his demon army but how will a mere human succeed where all the gods have failed? Meanwhile, Ayodhya s emperor is torn between his own needs and the needs of the empire.
His rebellious third wife, raised as a warrior, is haunted by her past.
A defiant servant, stigmatized by her deformity, is willing to destroy the empire to achieve her own aims.
A prince, unaware of his own divine origin, falls in love with a princess so extraordinary even the all-seeing sages cannot fathom her destiny. Shape-shifting blood-drinkers from the celestial realm fill the forests around the city, and the time of prophecy is drawing near but will the blessings of the gods be enough to fend off the darkness growing in the heart of Ayodhya? A truly original reimagining of the classic Indian epic, the Ramayana as told primarily through the eyes of the women behind the throne, "Shadows of the Sun Dynasty" reveals an entirely new perspective on an ancient tale. Set in a world of kings and queens, celestial battles, invisible foes, and family rivalries, this epic tale forges legends in the fires of betrayal and prophecy."
Information
Format:

Hardback

Pages:

496 pages, Colour Illustrations Throughout

Publisher:

Mandala Publishing Group

Publication Date:

25/02/2016

ISBN:

9781608878710
Free
Standard Delivery

Within the UK