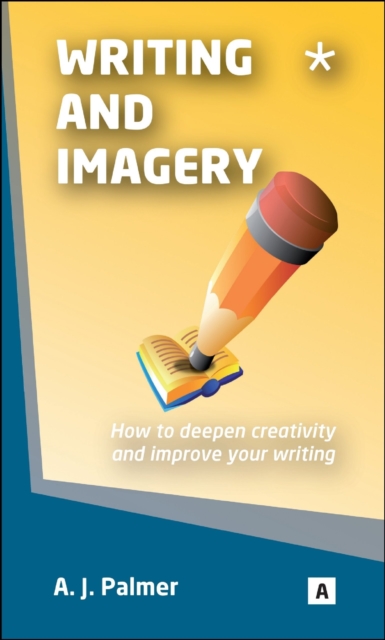 Writing and Imagery
Paperback / softback
Information

Description

Other Formats
Description
Writing and ImageryPaperback: 160 pages Publisher: Aber Publishing Language: English ISBN: 978-1842850619 Product Dimensions: 13.9 x 1.5 x 21.6 cmBook cover for Writing and Imagery: How to Deepen Creativity and improve your WritingWriting and Imagery: How to Deepen Creativity and improve your WritingHere is how to use creativity to improve your writing Written by professional writer and very experienced creative writing teacher, this book explains the nature of creativity and how a basic understanding of the brain function can enhance the creative process.
This book explains how through cultural shifts, the use of imagery has become more mainstream in the last 25-years and how this is a jumping off point to using creative imagery to reframe writing for different markets. 5.0 out of 5 stars Creativity not Artistic skill - making images work for writers!,By Benjamin ScottThis review is from: Writing and Imagery: How to Deepen Creativity and Improve Your Writing (Paperback)Writing and Imagery is a masterclass in finding, honing and magnifying a writer's creative power and prowess.
Based on her own experience exploring and teaching using imagery, Ann Palmer gives writers at every level the opportunity and tools to get more out of every stage of the writing process, as well as more from writing classes, workshops and exercises.
With a right brain, image-lead approach to idea-generation, this book will revolutionise the lives of aspiring and professional writers and well as workshop leaders and teachers everywhere. But Writing and Imagery is not a prescription, a quick fix in a pill.
It's an invitation to go on an inner adventure - a powerful way to discover spontaneity, joy and surprises in writing.
It works. And it works in different ways for different writers.
Artistic skill is not important, in fact, it's almost irrelevant to the process of redefining the writer's brain. While image work may be alien to many writers, I've found this approach fundamentally shifting and inspiring.
Not only does it encourage and build self belief, but harnesses the brains cooperation in the writing process.
Ann Palmer is a midwife for the birth of the reader's own enhanced creativity; she guides the reader to make their own discoveries and journeys into the imaginative subconscious.
Don't just read through the book, use to it to explore the wild creativity of your right-brain. Once you've started working with Writing and Imagery, writer's block may well be a thing of the past.
This new approach to writing has help for every stage of writing, from idea generation to being more original, from struggling with "show not tell" to writing synopses.
After years of going to Ann's workshops, it's wonderful to see these amazing methods brought to a wider audience.
This is a book few writers can afford not to read. 5.0 out of 5 stars Breath of fresh air in the How To literary sectionBy Daniela I.
Norris In a compelling, easy to read and easy to follow guide to activating your right brain during the process of creative writing, Ann Palmer opens a window into a world full of inspiring images and stimulating ideas.
A wonderful tool for Creative Writing students, aspiring writers and accomplished authors who find that silencing the inner, left-brain-dominated critic is hard work.
Packed with practical tips, exercises and advice gathered during her years as a Creative Writing teacher, Writing and Imagery: How to Deepen Your Creativity and Improve Your Writing is a breath of fresh air in the How To literary section. Click here to buy5.0 out of 5 stars An involving, encouraging and informative textBy Susannah Format: PaperbackI would warmly recommend reading Ann Palmer's `Writing and Imagery', even if you are not a writer of creative fiction.
All readers interested in enhancing creative potential through Right Brain activity will benefit from this publication.
In my professional role as an ESL teacher, I have found Ann's clear advice and suggestions directly related to storytelling strategies I employ in activities which help students manipulate language to personalise expression.
As an interested reader, I have tried some of the variety of practical exercises Ann illustrates.
You may be surprised to discover how much resonance these have within your outlook on life and the way in which they empower problem-solving tasks.
Not only informative, this publication is involving, encouraging and a fun experience. 'Wholistic' in fact. f 5 stars An inspiring book from an inspiring teacherBy Carri KP Format: PaperbackAnn Palmer is an inspiring, enthusiastic and encouraging creative writing teacher.
In this book she shares with generosity her impressive knowledge and experience of the writing process. Writing can be difficult, not least because much westernised education emphasises left brain attributes - strait-laced, orderly, rule-bound and censorious.
By developing and learning to trust the more unusual and and even `quirky' - but highly creative - right brain, and giving it equal validity with the left, we can achieve a more `wholistic' approach to our work.
By working with images we can interrogate our writing and find surprising and worthwhile meanings and directions. The book offers many fascinating exercises and suggestions.
I'd never have believed they could reveal so much to me.
The journey offered within these pages leads us towards deeper, more honest, more expansive and more original writing, and we may indeed find hidden treasures that will truly amaze.
Read, explore and discover!An excellent guideBy A readerFormat: PaperbackThis is an excellent guide to the underexplored - and fascinating - world of imagery and its links to creativity in general and writing in particular.
It offers valuable advice on how to make friends with your right brain, honour this relationship and, as a consequence, release your creative energies.
Superb chapters about writing fiction are included towards the end; yet, the insights presented throughout the book are immensely beneficial also to non-fiction writers.
This is a must-have book for all writers who want to proceed to another level on their creative journeys. Click here to buyTruly InspirationalBy A. Radcliffe-Hart Format: PaperbackAnn Palmer takes the intellectual passion we all, as writers in the least, feel for language and literature and enables us to connect this passion with image-based attributes of our right-brain.
The organic image-work which follows this process has found new depths within my writing whilst I have been expanding the possibilities that have been trapped, just an image or two away.
By understanding how to unlock the key right brain writer skills, Writing and Imagery allows you to reframe and recreate.
This book is truly inspirational. 5.0 out of 5 stars Great book ... and a priceless free giftBy Eileen Format: PaperbackSo often in the course of my work I have longed for Ann to be sittingin front of me, as she does in her workshops, guiding me throughtechniques to help me tap into my right brain to explore the deeperimagery within it.
Now, it's as if she is. Her book is now a vital toolin my creative armoury ... and it came with a free gift: my dreams."4.0 out of 5 stars A Scientific StudyBy Mrs. E. H. Hopkinson Format: PaperbackFor those of us who naturally work this way, Writing and Imagery provides a fascinating study of the science behind a seemingly intuitive process.
For those who don't, it will open a new world of creativity. (Elizabeth Hopkinson: fantasy writer and member of Swanwick Writers' Summer School)
Information
Format:

Paperback / softback

Pages:

212 pages, 40 Illustrations, unspecified

Publisher:

GLMP Ltd

Publication Date:

01/10/2010

Category:

ISBN:

9781842850619
Information
Format:

Paperback / softback

Pages:

212 pages, 40 Illustrations, unspecified

Publisher:

GLMP Ltd

Publication Date:

01/10/2010

Category:

ISBN:

9781842850619