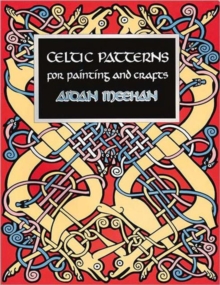 Celtic Patterns Painting Book
Paperback
Description
A repertoire of Celtic patterns including all the main branches of traditional Celtic ornament and its use in decorating letters.
Great works of art, such as the "Book of Kells" and the "Book of Durrow", were created by several artists working together, one drawing in pen and ink and the other filling in the outlines with colour.
Here the reader is invited to fulfil the role of painter, while being guided by notes on the history of the designs and on the choice and order of the colours.
This collection of designs, created by Aidan Meehan, is based on traditional sources - the great illuminated manuscripts and Pictish carved stonework - and includes the spirals and knotwork, geometric step and maze patterns, and beast, bird and plant designs which characterize Celtic patterns.
The volume seeks to be of value to artists and designers interested in experimenting with colour combinations and techniques, as an introduction to Celtic art, and a gift for those interested in the Celtic legacy.
Free
Standard Delivery

Within the UK