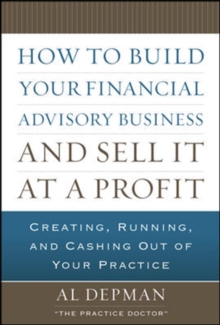 How to Build Your Financial Advisory Business and Sell It at a Profit
Hardback
Information

Description

Other Formats
Description
Too many financial advisors simply closeshop when they decide to exitthe business-squandering untold goodwill andlegacy business. Why waste a great opportunity?By applying the advice of Al Depman, a.k.a."The Practice Doctor," you can transform yourfinancial services practice into a legacy-focusedbusiness that will add substantial wealth toyour retirement nest egg.
How to Build YourFinancial Advisory Business and Sell It at a Profitwalks you through the steps of developing,managing, and growing a profitable practiceyou can sell for enhanced value or bequeathto family members. Depman guides you through the process offorming a sound plan for your financial servicesbusiness, including how to:Create a team of advocates inmarketing and administrationBuild a sophisticatedreferral processDevelop sales and casedevelopmentsystemsWrite a best-practicesoperations manualMaximize new technology tostreamline operationsPut a succession plan in placeBuilding a long-term business model is notjust good for your future.
It will also makeyou happier and more profitable today.
You'llbe able to spend more time with clients. You'llput more energy into finding new ones. You'llfocus more on referral sources. And someoneelse will do the grunt work. Use How to Build Your Financial AdvisoryBusiness and Sell It at a Profit to build yourbusiness into more than a simple means to apaycheck-and reap the rewards of your hardwork long after you choose to leave the firm.
Information
Format:

Hardback

Pages:

352 pages, 20 Illustrations, unspecified

Publisher:

McGraw-Hill Education - Europe

Publication Date:

16/09/2009

Category:

ISBN:

9780071621571