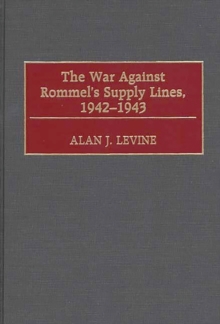 The War Against Rommel's Supply Lines, 1942-1943
Hardback
Description
An exciting account of a little-known, yet vital part of World War II, the Allied effort to blockade Axis forces in North Africa with a relatively small number of planes and submarines included some of the war's most spectacular air battles, and opened the way to the attack on Fortress Europe from the south.
This is the first book-length treatment of the crucial struggle to cut Axis supply lines in the Tunisian campaign of 1942-1943, a battle often ignored or played down even by official historians.
The campaign marked the first big U.S. victory against the Axis powers and served as a proving ground for several top Allied commanders.
This study fills an important gap in the history of the war, reevaluating the development of Allied airpower and the role of Italy in the campaign. Allied success in interdiction was a critical factor in the greatest Allied victory in the Mediterranean campaign, a victory which left the enemy so weakened that it could not stop the subsequent invasion of Europe from the south.
Despite initial disorganization and early disappointments, the British waged one of only two successful submarine campaigns ever fought. This study describes some of the war's most amazing air battles, notably Operation Flax against the enemy's air transport fleet, and attacks on convoys, all interwoven with the events of the ground war in the desert and comparisons with the Pacific effort. It details the struggle to reorganize and improve the Allied effort, the belated success of sea sweeps against enemy ships, and the final victory in the spring of 1943, in which an air blockade was clamped on the sea and sky approaches to Tunisia.
Information
Format:

Hardback

Pages:

232 pages

Publisher:

ABC-CLIO

Publication Date:

30/06/1999

Category: European history
ISBN:

9780275965211
Free
Standard Delivery

Within the UK