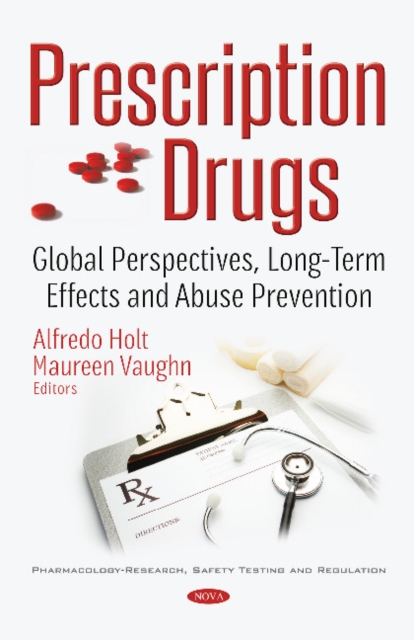 Prescription Drugs : Global Perspectives, Long-Term Effects & Abuse Prevention
Paperback / softback
Description

Information

Other Formats
Description
By the nature of its use, the intrathecal baclofen pump is frequently implanted in children and adults with either an advanced spinal, pelvic or hip deformity who suffer from muscle spasticity.
These deformities often lead to additional surgical procedures either simultaneously or after the implantation of the baclofen pump and intrathecal catheterisation.
In the first chapter, several different scenarios are described and surgical manoeuvres for mitigating complications and improving outcomes in patient populations are examined.
The second chapter addresses all issues dealing with the prescription of baclofen, including the questions of doses and ways to deal with adverse effects.
The conclusion is that baclofen is currently revolutionising the therapeutic approach to AUD, with a prescription mainly based on the therapeutic alliance, where the patient gets personally involved, with the support of the physician, in the monitoring of the treatment.
According to the National Institute on Drug Abuse (NIDA), prescription drugs such as stimulants, opioids, and depressants are the most commonly misused classes of prescription drugs (NIDA, 2016).
The authors of the third chapter examine NMUPD (i.e., depressants, opioids, and stimulants) among college students based on gender, living arrangements, and involvement in extracurricular activities.
Specifically, if living arrangements and extracurricular activities influence the use of depressants, opioids, and stimulants while in college.
The fourth chapter examines the relationship between nonmedical prescription drug (NMPD) use, perceived risk, ease of access, and peer disapproval of NMPDs based on school sports participation among 7th-12th grade male and female students.
The final chapter of this book reviews the clinical evidence of the antimanic and the long-term mood stabilising effect of memantine and suggests the possible biological effects.
Information
Format:

Paperback / softback

Pages:

104 pages

Publisher:

Nova Science Publishers Inc

Publication Date:

01/07/2017

Category:

ISBN:

9781536123463
Information
Format:

Paperback / softback

Pages:

104 pages

Publisher:

Nova Science Publishers Inc

Publication Date:

01/07/2017

Category:

ISBN:

9781536123463