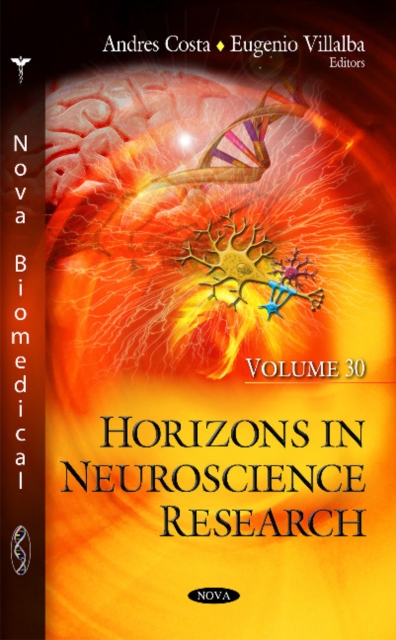 Horizons in Neuroscience Research : Volume 30
Hardback
Description

Information

Other Formats
Description
Chapter One explains how the monocyte/macrophage cell lineage plays a key role in the development of immune and adaptive responses, and how some cell subpopulations associated with this lineage exhibit highly specialised phagocytic activity following cell degradation.
Using the method of gravitational mass spectroscopy (GMS), the bio field of the brain and that of the intestine during physical/mental stress were investigated in Chapter Two.
Chapter three discusses the evidence that the prevalence of vitamin D deficiency is increasing both in different age groups (mainly in older adults) and in different geographic regions of the world.
Chapter Four describes the harmful effect of alcohol intoxication.
The authors investigated the influence of high, low and hormetic doses of alcohol on the free-radical signal intensity in cerebral cortex, hippocampus and liver of the offspring of female rats in gestation period treated with ethanol.
Chapter Five proposes a concise and easy-to-use terminology to describe the motor deficit of patients with spinal cord injury.
The authors of Chapter Six systematically evaluate how the prior spatial (where) and feature (what) information about an upcoming target differentially influence visual searching during the course of inhibition of return of attention (IOR).
Chapter Seven reviews the aetiology, clinical appearance, diagnosis, and management for pneumocephalus and cerebrospinal fluid fistula.
Chapter Eight surveyed the prognostic value of maternal and foetal autonomic balance in the prediction of Pre-eclampsia (PE).
Chapter Nine performs a retrospective review of literature spanning 1979 to 2015 on the subject of staged resection of large (>3cm) vestibular schwannomas.
Chapter 10 discusses how neuroprotective mechanics are transformed to pathogenetic agonists in the propagating establishment and spread of lost synaptic plasticity in the Alzheimer disease process.
Information
Format:

Hardback

Pages:

180 pages

Publisher:

Nova Science Publishers Inc

Publication Date:

01/07/2017

Category:

ISBN:

9781536120295
Information
Format:

Hardback

Pages:

180 pages

Publisher:

Nova Science Publishers Inc

Publication Date:

01/07/2017

Category:

ISBN:

9781536120295