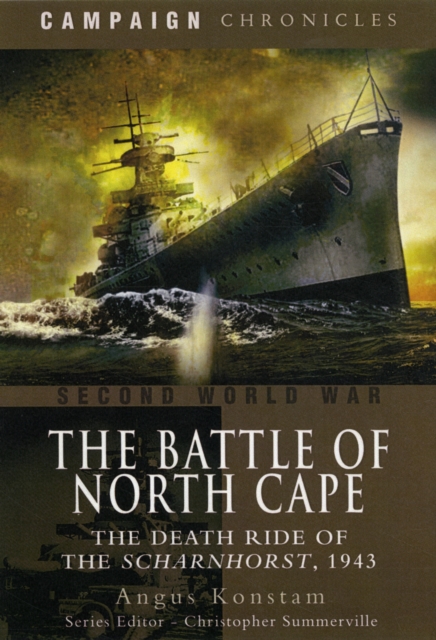 Battle of North Cape: the Death Ride of the Scharnhorst, 1943
Paperback / softback
Information

Description

Other Formats
Description
'Angus Konstam's gripping account tells the story of this crucial but under-studied naval battle, and explains why the hopes of the German Kriegsmarine went down with their last great ship; only 37 of the German battlecruiser's 1700 crew were saved.' - The Nautical Magazine'Angus Konstam's book is an excellent read and strongly recommended...thoughtful and totally engrossing...If you are interested in the Royal Navy in the Second World War, the Arctic convoy campaign or capital ship actions, The Battle of North Cape is well worth its cover price.' - Naval ReviewOn 25 December 1943 the German battlecruiser Scharnhorst slipped out Altenfjord in Norway to attack Artic convoy JW55B which was carrying vital war supplies to the Soviet Union.
But British naval intelligence knew of the Scharnhorst's mission before she sailed and the vulnerable convoy was protected by a large Royal Naval force including the battleship Duke of York.
In effect the Scharnhorst was sailing into a trap. One of the most compelling naval dramas of the Second World War had begun.ANGUS KONSTAM is a highly respected and widely published military historian. The body of his work encompasses everything from ancient Greece to the Second World War.
However, his main field is maritime and naval history.
He has published books on Blackbeard: America's Most Notorious Pirate, The History of Pirates, PT Boats: US Naval Torpedo Boats, The History of Shipwrecks, Hunt the Bismarck and the 7th U-Boat Flotilla.
His most recent books include Salerno 1943: The Allied Invasion of Italy and Piracy.
Information
Format:

Paperback / softback

Pages:

176 pages, 40 illustrations

Publisher:

Pen & Sword Books Ltd

Publication Date:

01/10/2011

Category:

ISBN:

9781848845572
Information
Format:

Paperback / softback

Pages:

176 pages, 40 illustrations

Publisher:

Pen & Sword Books Ltd

Publication Date:

01/10/2011

Category:

ISBN:

9781848845572