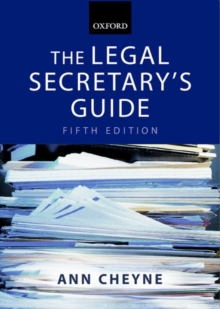 The Legal Secretary's Guide
Paperback
Description
This practical and comprehensive guide for legal secretaries is an ideal book for someone thinking of becoming a legal secretary, or for those experienced in the role who want to know more.
A good legal secretary is one of the most valuable assets in any legal office and this book, written as a practical guide, will enable them to approach their work with increased confidence.
Of particular assistance will be the numerous completed specimen forms and documents.
These examples indicate the best way of filling in such forms, and they will be invaluable for reference.
As well as covering most areas of law, this book identifies the people who work in the law and the structure of the courts.
It contains a useful glossary, a section on etiquette and a helpful list of addresses and telephone numbers, and web addresses.
There is also a guest chapter on finding a job which has been written by Zarak Legal, a leading legal recruitment consultants firm in the City of London.
There is also a test yourself section at the end of most chapters.
It is an ideal study, or desktop, aid for the experienced legal secretary or beginner. It will assist legal secretaries to understand more about what they are doing and why each stage of various procedures is necessary.
Therefore, they will find their work more interesting and fulfilling, as well as being a greater asset to their employer.
Free
Standard Delivery

Within the UK