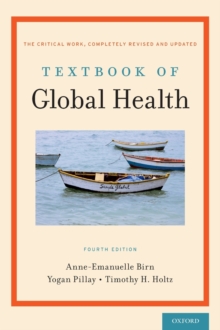 Textbook of Global Health
Hardback
Description
The Critial Work in Global Heath, Now Completely Revised and Updated"This book compels us to better understand the contexts in which health problems emerge and the forces that underlie and propel them." -Archbishop Emeritus Desmond Mpilo TutuH1N1.
Diabetes. Ebola. Zika. Each of these health problems is rooted in a confluence of social, political, economic, and biomedical factors that together inform our understanding of global health.
The imperative for those who study global health is to understand these factors individually and, especially, synergistically.
Fully revised and updated, this fourth edition of Oxford's Textbook of Global Health offers a critical examination of the array of societal factors that shape health within and across countries, including how health inequities create consequences that must be addressed by public health, international aid, and social and economic policymaking.
The text equips students, activists, and health professionals with the building blocks for a contextualized understanding of global health, including essential threads that are combined in no other work: DT historical dynamics of the fieldDT the political economy of health and developmentDT analysis of the current global health structure, including its actors, agencies, and activitiesDT societal determinants of health, from global trade and investment treaties to social policies to living and working conditions DT the role of health data and measuring health inequitiesDT major causes of global illness and death, including under crises, from a political economy of health vantage point that goes beyond communicable vs. non-communicable diseases to incorporate contexts of social and economic deprivation, work, and globalizationDT the role of trade/investment and financial liberalization, precarious work, and environmental degradation and contamination DT principles of health systems and the politics of health financingDT community, national, and transnational social justice approaches to building healthy societies and practicing global health ethically and equitablyThrough this approach the Textbook of Global Health encourages the reader - be it student, professional, or advocate - to embrace a wider view of the global health paradigm, one that draws from political economy considerations at community, national, and transnational levels.
It is essential and current reading for anyone working in or around global health.
Free
Standard Delivery

Within the UK
Also by Anne-Emanuelle Birn