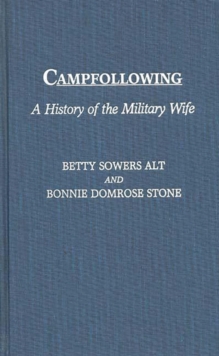 Campfollowing : A History of the Military Wife
Hardback
Description
We know that a supportive family is the key to a person's success.
It is fascinating to read a history of military wives that begins to give them the credit they deserve for service to their country and their families. Patricia Schroeder U.S.
Representative, Colorado Campfollowing opens an important page in history for the military and for the role of women in the military.
The women described in this book were not only devoted wives and mothers who brought a few of the comforts of home to forlorn military outposts, but they were also nurses who cared for the sick and wounded, as well as soldiers who fought bravely next to their soldier-husbands.
They served their country with great love, dignity, and honor, and they deserve this long overdue recognition.
I believe this book will be both an inspiration and a model for present military spouses as they follow their loved ones throughout the world or wait patiently at home for them when they are apart. Timothy E. Wirth U.S. Senator, Colorado Campfollowers themselves, Betty Alt and Bonnie Stone have collected published and unpublished memoirs, diaries, and letters and have conducted personal interviews to present this comprehensive history of the military wife from the Revolutionary War through the post-Vietnam years.
The first work to concentrate on the unique hardships and rewards known to these women, this book considers both the traditional and modern roles of the military wife, with particular attention to her place as second in line to her husband's career and the military establishment's reluctant acceptance of her as integral to the success of its mission. Resilience and flexibility, loneliness and companionship, and danger and loyalty are all components of the military wife's life described in these revealing pages.
The chapters are organized chronologically, outlining the experience during peacetime and war, stateside and overseas.
Throughout, the focus remains on the strength of this sisterhood as it copes with separation and fear by fostering its sense of community, and faces the indifference of the military by constantly asserting its identity.
This look at the many different facets of life as a military wife, described from a personal perspective within a historical framework, is a thoughtful analysis, a complete chronicle, and a true adventure with all its joys and perils.
Free
Standard Delivery

Within the UK