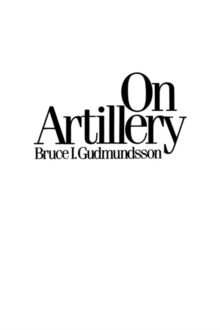 Description
Gudmundsson tells the story of field artillery in the 20th century and its impact on the major conflicts of our time.
Its purpose is to provide the reader--whether artilleryman or not--with hitherto unavailable insights on the role that artillery plays in the larger battle and how that has helped shape the world that we live in today.
Unique aspects of the book include the treatment of technical issues in non-technical language, the extensive use of German and French sources generally unavailable to the English-speaking reader, the shattering of some long-cherished myths, and the discussion of issues that are often papered over in the literature of field artillery--losses from friendly fire, the frequent impotence of counter-battery fire, and the French origins of current American doctrine. The bulk of the literature on field artillery can be fairly described as gunner propaganda.
Gudmundsson, with his emphasis on the way artillery interacts with other arms and the dynamics of the battle as a whole, takes a more balanced and a more critical view, dealing with the failures as well as the achievements of field artillery.
This study provides a thorough overview of field artillery in non-technical language that will be of interest to military professionals, military historians, and wargamers.
Free
Standard Delivery

Within the UK