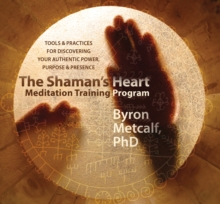 The Shaman's Heart Meditation Training Program : Tools and Practices for Discovering Your Authentic Power, Purpose, and Presence
CD-Audio
Description
Explore the Extraordinary Intelligence and Healing Potential of Your Heart The heart is the center point of all human experience.
Though our modern culture focuses on the brain, current neuroscience is confirming what shamans have always known: that the heart is the gateway to healing, maturity, and fully engaged living.
With The Shaman's Heart Meditation Training Program, shamanic teacher and transpersonal psychologist Byron Metcalf combines progressive meditation training with cutting-edge sound technology to help you explore and expand the four essential aspects of your heart: * The Clear and Intelligent Heart: Unlock your visionary gifts for clarity, intuition, and spiritual perception * The Full and Compassionate Heart: Discover your healing potential as you expand your capacity for love, empathy, and generosity * The Open and Trusting Heart: Follow your heart's guidance for releasing unhealthy attachments and trusting in the unfolding of reality * The Strong and Powerful Heart: Awaken your warrior nature as you tap new resources for strength, courage, and confidence Using his proprietary Field Effect Audio Technology (TM) (FEAT) to help you easily and safely access expanded states of consciousness, this renowned teacher offers his most comprehensive training program-created to support you in fully developing your authentic power, purpose, and presence.
Free
Standard Delivery

Within the UK