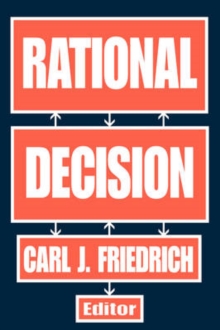 Rational Decision
Paperback / softback
Description
To a historian the most interesting thing about decisions is the fact that everyone talks about them.
No one interested in social ideas can fail to notice how large a part the word "decision" has come to play in the vocabulary of moral and political discourse.
It meets one on every page. Inevitably one asks, "Why?" Why is there so much talk of decisions and of those who are said to make them?
Are there any ideological reasons for it?In asking such questions, and in offering "ideology" as an explanation, nothing complex or pejorative is implied by Friedrich.
He uses "ideology" to refer to personal responses to what is regarded as a prevalent social situation and to the efforts to critically explain and evaluate that situation, whether the latter be real, imagined, or a bit of both.
An investigation of the ideological aspects of political concepts is, clearly, not the only way to explain them, but this and similar genetic explorations can show us how and why large numbers of people come to concentrate on specific issues.If such explorations can tell us little about the validity of political ideas, they can still provide a degree of self-understanding without which political thought is apt to become complacent, irrelevant, and excessively abstract.
There is nothing denigrating in recognizing the ideological perimeter within which political ideas move.
It will seem so to only those of us who identify the worth and rationality of our thinking with its remoteness from our own experiences, and especially from those that we share with our less reflective neighbors.The topic of rational decision-making presents the student of philosophical politics with the vast and inexhaustible problem of rationality in its relation to decision-making.
The present interest in decision-making among social scientists has tended to apply inadequate attention to the application of rationality to the process.
Information
Format:

Paperback / softback

Pages:

238 pages

Publisher:

Taylor & Francis Inc

Publication Date:

15/03/2007

Category: Social & political philosophy
ISBN:

9780202309743
Free
Standard Delivery

Within the UK