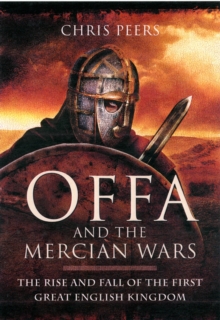 Offa and the Mercian Wars : The Rise and Fall of the First Great English Kingdom
Hardback
Description
In England in the eighth century, in the midst of the so-called Dark Ages, Offa ruled Mercia, one of the strongest Anglo-Saxon kingdoms.
For over 30 years he was the dominant warlord in the territory south of the Humber and the driving force behind the expansion of Mercia's power.
During that turbulent period he commanded Mercian armies in their struggle against the neighbouring kingdoms of Northumbria and Wessex and against the Welsh tribes.Yet the true story of Offa's long reign and of the rise and fall of Mercia are little known although this is one of the most intriguingepisodes in this little-recorded phase of England's past.
It is Chris Peers's task in this new study to uncover the facts about Offa and the other Mercian kings and to set them in the context of English history before the coming of the Danes.
He describes how the tribes of middle England were welded together by Penda, one of Offa's remarkable predecessors, and how Mercia developed into a cohesive militaristic society which defended itself and preyed on its neighbours.
A line of strong kings - Wulfhere Aethelred and Aethelbald - followed and laid the foundations for the kingdom Offa took over in 757.Warfare came naturally to these men - they were born into a warrior tradition - and Chris Peers pays particular attention to this key element in Mercian society. Also, of course, he discusses the most famous monument that has come down to us from Offa's reign - the defensive dyke constructed in the west of England to deter the incursions of the Welsh.His fresh account of this neglected era in English history draws together the results of the latest archaeological research and the sparse documentary evidence that has survived.
It makes fascinating reading.
Information
Format:

Hardback

Pages:

256 pages, 20 to 30 illustrations

Publisher:

Pen & Sword Books Ltd

Publication Date:

17/05/2012

Category: British & Irish history
ISBN:

9781848844438
Free
Standard Delivery

Within the UK