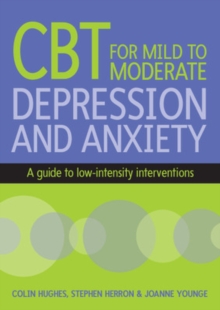 CBT for Mild to Moderate Depression and Anxiety
Paperback / softback
Information

Description

Other Formats
Description
Cognitive Behavioural Therapy for Mild to Moderate Depression and Anxiety provides information and support using evidence-based, low-intensity psychological treatments involving cognitive behavioural therapy (CBT) for mild to moderate mental illness.
Its main focus is on supporting the low-intensity worker (Psychological Well-Being Practitioner) with patient self-management.
The book closely mirrors the key components of assessment, therapeutic relationship, treatment of low mood, anxiety and panic, signposting and basic psychopharmacology.
Written in a step-by-step approach by experienced CBT trainers, this book offers:a strong focus on the process of assessmenta breakdown of the important factors necessary for an effective therapeutic relationshipa clear 'how to guide for the low intensity treatment of anxiety and depressionan emphasis on how to get the best out of supervisionDesigned as a core text for modules 1 and 2 of the Postgraduate Certificate for Low-intensity Therapy Workers (IAPT), this book is also suitable for all undergraduate and postgraduate courses that require the student to have a basic skill set for the treatment of low mood and anxiety/panic, i.e. psychology, counselling, CBT, nursing and social work.
It is a useful practical companion to all who have an interest in or work directly with clients who experience common mental health problems.
Colin Hughes is a BABCP accredited Psychotherapist, Registered Nurse and Lecturer at Queen's University, Belfast, UK.
He has been involved in Nurse training, particularly postgraduate psychotherapy for a number of years and has a specialist interest in the field of personality disorders.Stephen Herron is a BABCP Accredited CBT Psychotherapist, working in the NHS and private practice.
He is an Associate Lecturer on Certificate and Postgraduate Diploma CBT courses at Queen's University, Belfast, UK, and has been involved in CBT training for over 15 years.Dr Joanne Younge works as an Associate Specialist Old Age Psychiatrist and BABCP accredited CBT Psychotherapist in the NHS, and is an Associate Lecturer on the postgraduate diploma in CBT (BABCP accredited training course) at Queen's University, Belfast, UK.
She has also devised and delivered a brief CBT skills training package for a Mental Health Community Team and has a special interest in supervision.I have been looking for a book to use as a manual for CBT, and I am glad to say that I have found it!
All psychotherapists, whatever their psychological views, will find much to stimulate their thinking in this book.
Its depth and scope, the variety of data explored, and the stark nature of the argument will provoke both thought and emotion.
This well-written book provides coverage of a number of important issues and techniques not commonly treated in a didactic manner and specifically not covered in most introductory CBT textbooks.
If you are in any way concerned with the practical way to apply CBT for anxiety or depression, you owe it to yourself to read this book. Dr Mamoun Mobayed, Consultant Psychiatrist, Director of the Program Department, Doha, QatarLet me put this succinctly - the authors have written a very helpful book.
It is essential reading for anyone who is involved in the delivery of low intensity CBT for depression and anxiety.
Depression and anxiety are unfortunately rife within our society and cause significant suffering.
Ultimately mental health workers are engaged in addressing and ameliorating that suffering; it is a hard job.
This book goes a long way in affording support to those workers through clearly outlining cognitive and behavioural principles and techniques that are proven to help with these types of presentations.
Written by highly experienced cognitive behaviour therapists and lecturers for people who are providing low-intensity interventions, the book offers step-by-explanations of evidenced and invaluable CBT approaches and techniques.
Although primarily written for people with limited experience and training in CBT I believe all therapists and mental health workers, whatever their level of experience or training, will find much to inform and support them in this book.Karl Tooher, Centre Director at Northside Counselling ServiceHerron, Hughes and Younge have skillfully woven their passion for CBT and its ability to transform lives with a common sense and useful guide.
This book combines principles, theory and practice in a thought provoking and accessible way for any practitioner working with people experiencing a mental health problem.
Practitioners of all hues can enhance their core skills in working with sufferers of anxiety and depression. Lots of health professionals work with the aim of aiding clients in recovery from common mental health problems, however they can often find in real life situations that they have insufficient skills to fully help in this task.
This book can provide health care workers of varying professional backgrounds with a really useful road map to do this.
The authors clearly integrate their own clinical experiences with the evidence base in an engaging way.
Principles, theory and practical aspects of a CBT approach are combined along with helpful suggestions for putting these into practice and integrating these new skills with how people already work.
Everyone from GP's or Student nurses/AHP's to experienced mental health workers will be able to glean useful gems from this book, for example within the chapter on Assessment, the methods described could be fruitful for anyone seeking to establish a collaborative relationship and shared understanding of difficulties. Catriona Kent, Nurse Consultant, Glasgow Institute of Psychosocial Interventions
Information
Format:

Paperback / softback

Pages:

256 pages

Publisher:

Open University Press

Publication Date:

16/11/2014

ISBN:

9780335242085