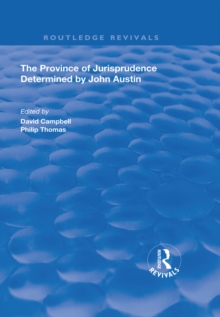 The Province of Jurisprudence Determined by John Austin
EPUB
Click here to see our help pages on reading this eBook on your chosen device. Please note that this eBook is incompatible with Kindle eReaders. Don't forget you'll need Adobe Digital Editions, if you don't already have it.
Description
First published in 1998, this text is the prefatory first part of Austin's Lectures on Jurisprudence or the Philosophy of Positive Laws and first appeared separately from the Lectures in 1832. This volume reproduces the standard text of The Province from Robert Campbell's fifth edition, published in 1885, and clarifies the structure and readability of the text, retaining Austin's 'Analysis' as a whole at the start of the book.
John Austin (1790-1859) was the first professor of jurisprudence at the University of London, which is now University College. His classic, The Province of Jurisprudence Determined, was derived from his course lectures. Austin took great pride in his ability to clearly delineate the study of law. Austin took a surgical approach and created a stripped down view of material central to the study of law. While this approach overlooks the ambiguity inherent in interpretations of law, it nevertheless stands as a landmark work and provides an excellent starting point for any deeper inquiry into the subject of jurisprudence.
Also in the Routledge Revivals series
|
View all