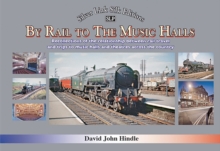 BY RAIL TO THE MUSIC HALLS : Recollections of the relationship between rail travel and trips to music halls and theatres across the country
Hardback
Information

Description

Other Formats
Description
Gary Morecambe writes: `David J. Hindle is an author and social historian with a particular interest in the genre of music hall and the history of the railways.
In this, his latest book, he flags up parallels to be drawn between the origins of railways and music hall.
This is an original concept, notwithstanding that long before the age of the automobile, it was the railways that conveyed audiences and performers to the music halls that evolved to become variety theatres. I look no further than my father's experiences to illustrate the point: `A second class train ride between Birmingham and Coventry in 1940 is not the most obvious starting point for the best loved double act in British comedy history.
World War Two was well underway in 1940, but not for Morecambe and Wise.
Fourteen year old Eric Bartholomew and his best friend Ernie Wiseman were travelling that day with my paternal grandmother, Eric's mum and mentor, Sadie Bartholomew.
The star-struck teenagers had been performing in a touring youth theatre as solo acts.
As usual the boys were over-excited after the show, and going through their Abbot and Costello, Laurel and Hardy impressions.
Sadie, who was trying to sleep, made a suggestion that would change showbiz history for ever. `Why don't you two stop fooling around and put your minds to something else.
Why not form a double act of your own?.' For over twenty years Morecambe and Wise learned their craft in Britain's variety theatres whilst travelling extensively throughout the country.
When variety effectively died and many theatres went permanently dark in the 1950/60s, they switched to television spectaculars, which were enjoyed by millions throughout the world. The profusely illustrated narrative will offer something more than mere reading enjoyment. David's enthusiasm and expertise on music hall history is unbounded, and, in railway nomenclature, I give this publication the green light.'
Information
Format:

Hardback

Pages:

128 pages

Publisher:

Mortons Media Group

Publication Date:

24/01/2020

Category:

ISBN:

9781857945416