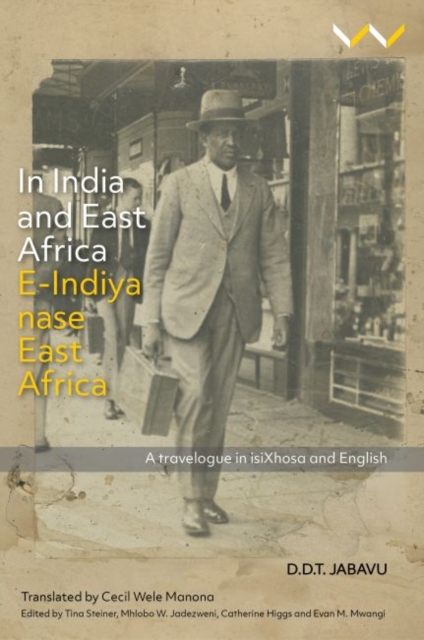 In India and East Africa E-Indiya nase East Africa : A travelogue in isiXhosa and English
Paperback / softback
Information

Description

Other Formats
Description
In November 1949, Davidson Don Tengo (D.D.T.) Jabavu, the South African politician, Methodist lay preacher and retired professor of African languages and Latin at Fort Hare University in the Eastern Cape, set out on a four-month trip to attend the World Pacifist Meeting in India.
The conference brought together delegates from over thirty countries to reflect on how Mahatma Gandhi's life and teachings could inform pacifist work in the post-World War II era.
Jabavu wrote an isiXhosa account of his journey up the east coast of Africa and to different parts of India which was first published in 1951 by Lovedale Press.
His narrative contains wide-ranging reflections on the fauna and flora of the changing landscape, on intriguing social interactions during his travels, and on the conference itself, where he considered what lessons Gandhian principles might yield for oppressed South Africans engaged in struggles for freedom and dignity.
He incorporates accounts of chance meetings with important figures of post-independence India and of the anti-colonial struggle in East Africa, as well as with members of the American civil rights movement.
His commentary on non-violent resistance, and on the dangers of nationalism when coupled with militarism and racism, enriches the existing archive of intellectual and political exchange between Africa and India from a black South African perspective.
This new edition includes Jabavu's travelogue in the original isiXhosa, with an English translation by the late anthropologist Cecil Wele Manona.
Tina Steiner's introductory chapter examines the networks of international solidarity and friendship that Jabavu helped to strengthen in the course of his travels.
A chapter by Mhlobo W. Jadezweni, whose updating of the original isiXhosa orthography has made Jabavu's text accessible to new generations of readers, considers the richness of Jabavu's isiXhosa style as a contribution to the archive of great African-language literature.
Catherine Higgs provides biographical sketches of D.D.T.
Jabavu and Cecil Wele Manona which situate this travelogue within the broader context of their lives.
Evan M. Mwangi's Afterword is a reflection on the historical and political significance of making African-language texts available to readers across Africa.
Information
Format:

Paperback / softback

Pages:

320 pages, 4 Illustrations, black and white

Publisher:

Wits University Press

Publication Date:

01/02/2020

Category:

ISBN:

9781776144761
Other Formats
PDF from £10.40

EPUB from £10.40
Information
Format:

Paperback / softback

Pages:

320 pages, 4 Illustrations, black and white

Publisher:

Wits University Press

Publication Date:

01/02/2020

Category:

ISBN:

9781776144761