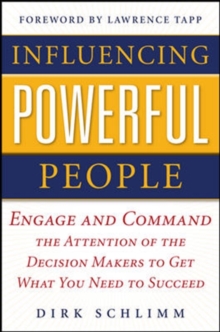 Influencing Powerful People : Engage and Command the Attention of the Decision-Makers to Get What You Need to Succeed
Hardback
Information

Description

Other Formats
Description
Influence the Influencers in Your Life"I've known Dirk Schlimm for years, and observed with admiration his ability to work effectively with powerful people while sustaining his own core values.
His topic is important, and his experience has given him a deep practical wisdom."--Jim Collins, author, Good to Great"For every 'powerful person' who has influenced history, there are three or four people behind the scenes without whom history would never have changed.
Vision and drive for implementation are never enough.
Dirk Schlimm's book is about how to accomplish the work of real change in the real world by doing the hard work that rarely gets noticed."--Governor Howard Dean, Chairman Emeritus, The Democratic National Committee"Influencing Powerful People provides invaluable insights into this dynamic--insights that will assist anyone to be more effective and successful."--Peter Jewett, Chair, Corporate Department, Torys LLPAbout the BookDealing with powerful people can be intimidating.
Many of them have reached the height of achievement through a combination of charm, confidence, and rilliance, and they certainly deserve our dmiration and respect.
More than likely, owever, they also succeeded as a result of their relentless drive and, in the process, developed reputations for being intense, demanding, and temperamental.
How do you keep up with such individuals, gain their confidence, contribute to their enterprise, and ensure that your ideas count?Influencing Powerful People provides you with the tools you need to connect and get results with key influencers and decision makers--chief executives, department heads, supervisors, and anyone else in a position of authority.
Author Dirk Schlimm, who has frontline experience working with "larger-than-life" leaders, provides sixteen proven rules for working successfully with the powerful people in your life--whether your boss, client, partner, associate, or international counterpart.
These rules include:Adopt the role of a "helper"Counter ego with humilityAppreciate who they are and what they doDo the things they can'tBecome an effective counterweightIt's not about giving up your values or telling them what they want to hear--in fact, what powerful people need most often is your loyalty and unbiased perspective.
It's about learning to build a relationship and communicating in a way that gets their attention.
It's about strategically managing and adapting your everyday behavior so that the powerful people in your life gain confidence in you, appreciate your contribution, and listen to you when charting their course. No matter what your level in an organization, Influencing Powerful People holds the key to ensuring that you make an impact, earn respect, and progress to even greater achievement and responsibility.
Information
Format:

Hardback

Pages:

272 pages

Publisher:

McGraw-Hill Education - Europe

Publication Date:

16/05/2011

Category:

ISBN:

9780071752862