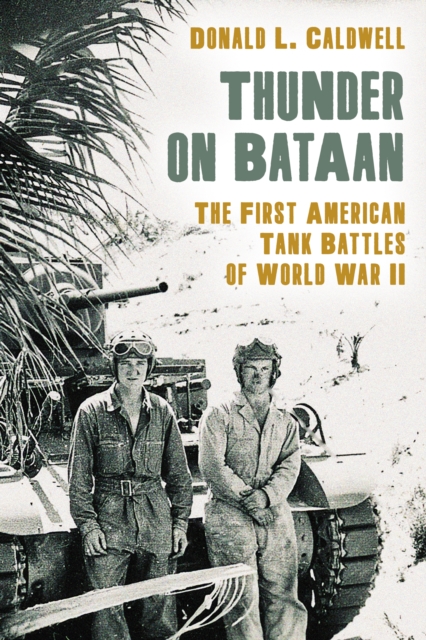 Thunder on Bataan : The First American Tank Battles of World War II
Hardback
Description

Information

Other Formats
Description
The American Provisional Tank Group had been in the Philippines only three weeks when the Japanese attacked the islands hours after the raid on Pearl Harbor.
One of the tankmen parked his half-track on a runway and shot down a Japanese Zero that day, but the group's first tank-on-tank action - indeed the first American armor battle of World War II - would come two weeks later.
Sent north to meet the Japanese landings in Lingayen Gulf, the men of the group, still learning their way around an M3 tank, found themselves thrust into a critical role when the Philippine Army could not hold back the Japanese.
The next day, General MacArthur ordered the retreat to Bataan, and over the next two weeks, the PTG, proving itself indispensable, formed a blocking force to cover the retreat and dealt the enemy tanks such a defeat that the Japanese would be timid with their armor for the rest of the campaign. During January, February, and March 1942, the light tanks of the PTG patrolled Bataan's beaches and, in a new role for tanks, encircled and destroyed Japanese penetrations and small amphibious landings; these tactics would be used by other units later in the war.
By April the situation had become untenable, and 15,000 Americans, along with 60,000 Filipinos, surrendered in one of the worst defeats in U.S. military history. The Provisional Tank Group ceased to exist, and its men endured the Bataan Death March, the torture and starvation of POW camps, the hell ships that took them to Japan and Manchuria for slave labor, and the Palawan massacre (where prisoners were lit on fire by the Japanese).
By the end of the war, only half the PTG's men were alive. The 1941-42 campaign in the Philippines has taken a backseat in the popular historical imagination to what came after - the Death March, the prison camps, the rescue attempts - and the role of tanks in that campaign has been largely ignored, in no small part because American field commander Jonathan Wainwright was an ex-cavalryman who did not like tanks and gave them short shrift in his postwar writings.
In an evocatively written book that conjures the sights, sounds, and smells of battle in the Philippines, Caldwell restores tanks to their rightful place in the history of this campaign while also giving attention to the horrors that followed.
He has conducted impressive primary research to bring to life the short but noteworthy combat history of the Provisional Tank Group, and he has dug even deeper to tell the stories of the individuals who did the fighting, selecting soldiers from each of the group's six companies and recounting, throughout the book, the entire arc of their service, from enlistment, training, and combat to imprisonment, liberation, and return home.
It gives the book strong human-interest threads to follow from the first chapter to the last.
Information
Format:

Hardback

Pages:

352 pages, 50

Publisher:

Stackpole Books

Publication Date:

31/08/2019

Category:

ISBN:

9780811737715
Information
Format:

Hardback

Pages:

352 pages, 50

Publisher:

Stackpole Books

Publication Date:

31/08/2019

Category:

ISBN:

9780811737715