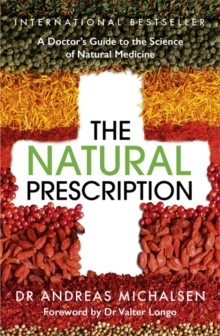 The Natural Prescription : A Doctor's Guide to the Science of Natural Medicine
Paperback / softback
Description
This illuminating book has the power to transform your health and change your life.
We are living longer than ever before, but our prolonged lives have come at a price: a rise in chronic diseases like digestive disorders, high blood pressure, heart disease, arthritis and cancer.
These diseases pose a challenge to conventional medicine, which controls symptoms but doesn't address the underlying cause.
But there is a solution: naturopathy. Naturopathy, or natural medicine, focuses on uncovering the roots of health and resilience.
In The Natural Prescription (first published as The Nature Cure in the US), Dr Michalsen shares the potential of nature he discovers every day with his patients.
Thoughtfully written and filled with science and history, fascinating case studies and practical guidance, he walks us through the basic principles and scientific mechanisms of naturopathy and provides us with practical, easy-to-follow instructions on how to integrate naturopathic methods into our daily routine. 'Essential reading for anyone interested in living a long and healthy life.' - Dr. Qing Li, author of Forest Bathing'This is a book that brings us toward a new approach to medicine, a book that is not to be missed.' - Valter Longo, PhD, author of The Longevity Diet'This scientifically-based and accessible book will help to transform lives as it contains a multitude of actionable recommendations to reverse and prevent multiple diseases.' - Lorenzo Cohen, PhD, professor and director of the Integrative Medicine Program at MD Anderson Cancer Center and co-author of Anticancer Living
Other Formats
Paperback / softback from £9.48
Free
Standard Delivery

Within the UK
Also by Dr Andreas Michalsen