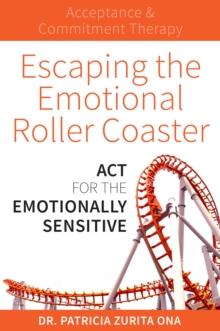 Escaping the Emotional Roller Coaster : ACT for the emotionally sensitive
Paperback / softback
Information

Description

Other Formats
Description
Have you ever felt overwhelmed by your emotions? Ever been told that you're 'too sensitive' or 'overreacting'?
You are not alone - millions of people go through the same struggle.
Escaping the Emotional Rollercoaster will help readers understand and manage their emotional responses to situations. Many of us feel like our emotions are controlling us and we can't seem to dial them back.
Whether you've reacted in ways that you've later regretted, or you simply struggle to understand why you're feeling the way you are, this is the book you've been waiting for.
Drawing on her years of experience as a clinical psychologist, Dr Zurita Ona provides a clear and simple roadmap for every 'super-feeler'.
Using the principles of Acceptance and Commitment Therapy (ACT) as well as aspects of positive psychology, you will learn to implement values-based behavior.
Along the way, you will become adept at skills such as self-acceptance, forgiveness, compassion, mindfulness, and conflict resolution. Super-feelers will discover that they are more than their emotions and that no matter how intense the situation, they can always choose to act in a way that is consistent with their personal values, in order to experience fulfilling, loving and caring relationships.
If you want to stop feeling like you're at the mercy of your emotions, Escaping the Emotional Rollercoaster is the guide for you.
Information
Format:

Paperback / softback

Pages:

248 pages

Publisher:

Exisle Publishing

Publication Date:

01/09/2018

Category:

ISBN:

9781925335743