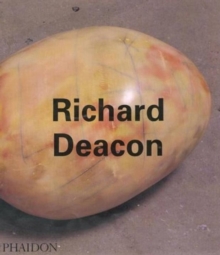 Description
Awarded the Turner Prize in 1987, Richard Deacon (b.1944) has occupied the foreground of British sculpture since the early 1980s and continues to be an artist of profound international significance, fulfilling major public sculpture commissions around the world.
His work emerged alongside that of contemporaries such as Tony Cragg and Richard Wentworth in the early 1980s.
Their sculpture rejected the heroic formalism and sometimes oppressive monumentality of the previous generation - which included Antony Caro and Richard Serra - in favour of an engagement with objects reminiscent of everyday situations and chance occurences.
Deacon can also, however, be seen as an heir to sculptors such as Caro, in terms of the exquisite virtuosity of his constructions in wood or metal, which range in scale from the domestic to the monumental.
Somewhere between aeronautics and anatomy, many of Deacon's large-scale sculptures recall chassis or ribcages.
Some loop and curve out across space like three-dimensional drawings, others hover on the floor like great drops of liquid.
The forms he creates evoke the material world of everyday artefacts and the inner world of the body, as a site of sensuality, memory and language.
His many large scale public commissions have ranged from sets of gates for cities to backdrops for major performance events, to sculptures situated prominently in public squares and parks.
These are complemented by smaller-scale works such as his ongoing series Art for Other People, in which a diverse range of everyday industrial materials are fashioned into familiar-seeming, yet absurdly uncanny, sculptural forms.
The new edition of this monograph has been updated to include over 50 additional pages documenting the artist's work since 1995, including a major retrospective at the Tate Liverpool.
The Update essay by Penelope Curtis, Head of Programmes at the Henry Moore Institute, Leeds, approaches Deacon's recent work through an examination of the links between his drawings and collages and the three-dimensional sculptures.
In the Survey, British writer and curator Jon Thompson traces the geneaology of Deacon's work in relation to language.
The artist talks with Pier Luigi Tazzi, Co-Director of Documenta 9, about the context of space and place.
In the Focus, U.S. art critic Peter Schjeldahl reveals the complexities of a single sculpture, Keeping the Faith (1992).
The Artist's Choice, by renowned anthropologist Mary Douglas, is on dirt 'as a matter out of place'.
His own writings are on subjects ranging from Rilke's poetry to the car as public sculpture.
Information
Format:

Paperback

Pages:

212 pages

Publisher:

Phaidon Press Ltd

Publication Date:

22/05/2000

ISBN:

9780714839493
Free
Standard Delivery

Within the UK