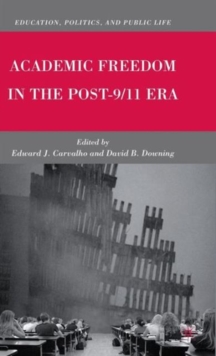 Academic Freedom in the Post-9/11 Era
Hardback
Description
Academic freedom has been a principle that undergirds the university since 1915.
Beyond this, it also protects a spirit of free inquiry essential to a democratic society.
But in the post-9/11 present, the basic principles of academic freedom have been deeply challenged.
There have been many startling instances where the rhetoric of national security and terror, corporate interests, and privatization have cast a pall over the terrain of academic freedom.
In the post-9/11 university, professors face job loss or tenure denial for speaking against state power, while their students pay more tuition and fall deeper in debt.
This timely collection features an impressive assembly of the nation s leading intellectuals, addressing some of the most urgent issues facing higher education in the United States today.
Spanning a wide array of disciplinary fields, Academic Freedom in the Post-9/11 Era seeks to intervene on the economic and political crises that are compromising the future of our educational institutions.
Free
Standard Delivery

Within the UK