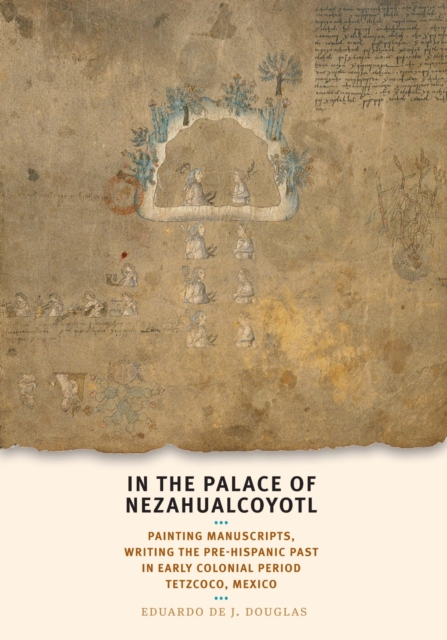 In the Palace of Nezahualcoyotl : Painting Manuscripts, Writing the Pre-Hispanic Past in Early Colonial Period Tetzcoco, Mexico
Hardback
Description

Information

Other Formats
Description
Around 1542, descendants of the Aztec rulers of Mexico created accounts of the pre-Hispanic history of the city of Tetzcoco, Mexico, one of the imperial capitals of the Aztec Empire.
Painted in iconic script ("picture writing"), the Codex Xolotl, the Quinatzin Map, and the Tlohtzin Map appear to retain and emphasize both pre-Hispanic content and also pre-Hispanic form, despite being produced almost a generation after the Aztecs surrendered to Hernan Cortes in 1521.
Yet, as this pioneering study makes plain, the reality is far more complex. Eduardo de J. Douglas offers a detailed critical analysis and historical contextualization of the manuscripts to argue that colonial economic, political, and social concerns affected both the content of the three Tetzcocan pictorial histories and their archaizing pictorial form.
As documents composed by indigenous people to assert their standing as legitimate heirs of the Aztec rulers as well as loyal subjects of the Spanish Crown and good Catholics, the Tetzcocan manuscripts qualify as subtle yet shrewd negotiations between indigenous and Spanish systems of signification and between indigenous and Spanish concepts of real property and political rights.
By reading the Tetzcocan manuscripts as calculated responses to the changes and challenges posed by Spanish colonization and Christian evangelization, Douglas's study significantly contributes to and expands upon the scholarship on central Mexican manuscript painting and recent critical investigations of art and political ideology in colonial Latin America.
Information
Format:

Hardback

Pages:

288 pages

Publisher:

University of Texas Press

Publication Date:

01/04/2010

Category:

ISBN:

9780292721685
Information
Format:

Hardback

Pages:

288 pages

Publisher:

University of Texas Press

Publication Date:

01/04/2010

Category:

ISBN:

9780292721685