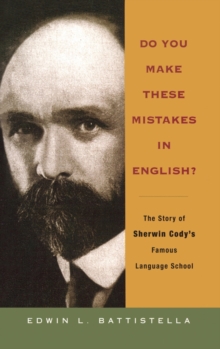 Do You Make These Mistakes in English? : The Story of Sherwin Cody's Famous Language School
Hardback
Information

Description

Other Formats
Description
In the early 1900s, the language of America was becoming colloquial Englishthe language of the businessman, manager, and professional. Since college and high school education were far from universal, many people turned to correspondence educationthat eras distance learningto learn the art of speaking and writing. By the 1920s and 1930s, thousands of Americans were sending coupons from newspapers and magazines to order Sherwin Codys 100% Self-correcting Course inthe English Language, a patented mail-order course in English that was taken by over 150,000 people. Codys ubiquitous signature advertisement, which ran for over forty years, promised a scientifically-tested invention that improved speaking and writing in just 15 minutes a day. Codys ad explained that people are judged by their English, and he offered self-improvement and self-confidence through the mail. In this book, linguist Edwin Battistella tells the story of Sherwin Cody and his famous English course, situating both the man and the course in early twentieth century cultural history. The author shows how Cody became a businessmana writer, grammatical entrepreneur, and mass-marketer whose ads proclaimed Good Money in Good English and asked Is Good English Worth 25 Cents to You? His course, perhaps the most widely-advertised English education program in history, provides a unique windowonto popular views of language and culture and their connection to American notions of success and failure.
But Battistella shows Sherwin Cody was also part of a larger shift in attitudes.
Using Codys course as a reference point, he also looks at the self-improvement ethic reflected in such courses andproducts as the Harvard Classics, The Book of Etiquette, the Book-of-the-Month Club, the U.S.
School of Music, and the Charles Atlas and Dale Carnegie courses to illustrate how culture became popular and how self-reliance evolved into self-improvement.
Information
Format:

Hardback

Pages:

224 pages, 13 black and white illustrations

Publisher:

Oxford University Press Inc

Publication Date:

20/11/2008

Category:

ISBN:

9780195367126