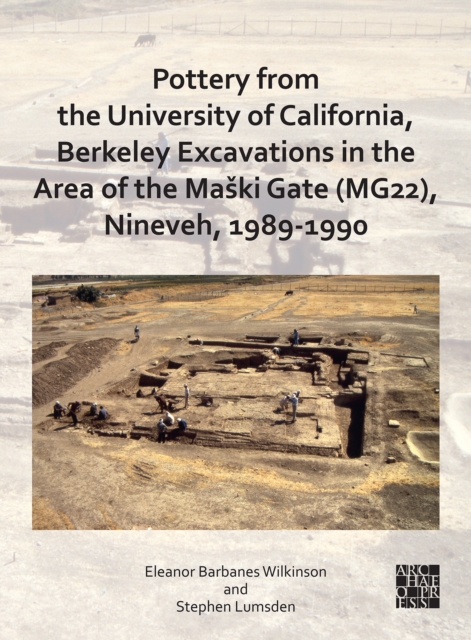 Pottery from the University of California, Berkeley Excavations in the Area of the Maski Gate (MG22), Nineveh, 1989-1990
Paperback / softback
Description

Information

Other Formats
Description
Pottery from the University of California, Berkeley Excavations in the Area of the Maski Gate (MG22), Nineveh, 1989-1990 presents the pottery from the UC Berkeley excavations in 1989 and 1990.
Nineveh is one of the longest occupied cities in the world, with a record of habitation extending back to at least the middle of the 7th millennium BC, continuing in an almost uninterrupted sequence through today.
It was one of the major urban centres in which the fundamental features of modern civilization first emerged.
Its political and religious significance - particularly during its apogee as the capital of the Assyrian Empire in the late 8th and 7th centuries BC - secured its status as a legendary metropolis in history and literature.
In 1987, the University of California at Berkeley initiated a program of archaeological investigations at Nineveh.
The expedition aimed to elucidate the character and layout of the city's urban neighbourhoods; an aspect of Assyrian urbanism that had received little close attention in prior excavations.
Near the Maski Gate (MG22), the UC Berkeley team uncovered a district of large dwellings and wide streets.
Multiple layers of occupation and rebuilding suggest the area was occupied during the period when the city was handsomely embellished and enlarged by the Assyrian monarch, king Sennacherib (705/704-681 BC).
The work in MG22 provides a stratigraphic history of Late Assyrian ceramics at the centre of the empire through at least the 7th century BC.
Information
Format:

Paperback / softback

Pages:

154 pages, 21 figures, 26 tables, 33 plates (black & white throughout)

Publisher:

Archaeopress

Publication Date:

04/08/2022

ISBN:

9781803272153
Information
Format:

Paperback / softback

Pages:

154 pages, 21 figures, 26 tables, 33 plates (black & white throughout)

Publisher:

Archaeopress

Publication Date:

04/08/2022

ISBN:

9781803272153