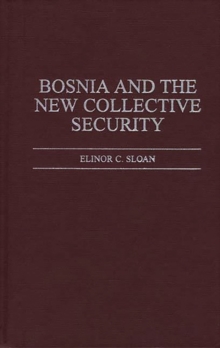 Bosnia and the New Collective Security
Hardback
Description
What is the role of peace support operations in managing non-traditional crises?
This is the central focus of Sloan's analysis of peacekeeping and the changing nature of the international community's involvement in Bosnia following the outbreak of civil war in 1992.
The key players in this drama are three institutions-the European Union, NATO, and the United Nations-and five major powers, including Britain, France, Germany, Russia, and the United States.
Sloan examines their actions and undertakings through the prism of several perspectives, including the peacekeeping, peacemaking, peace enforcement, and peace building dimensions. This study advances current thinking on peacekeeping and related operations by distinguishing key characteristics of the forms of operation and indicating how they best relate to one another.
It also challenges the notion that the international response to conflict in Bosnia was haphazard or confused, suggesting instead that the international community's actions can be readily understood as a reflection of the evolution of great power interests.
The overall effect is to shed light on two timely, complex, and interrelated subjects. The reader comes away with a clear understanding of what went wrong (and right) and why in Bosnia, and what lessons the experience holds for the future.
This is must reading for military and peacekeeping planners and for scholars and researchers in the fields of strategic studies, international security, and international relations.
Free
Standard Delivery

Within the UK