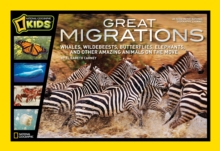 Great Migrations : Whales, Wildebeests, Butterflies, Elephants, and Other Amazing Animals on the Move
Hardback
Description
The book will be organised to track with the sequence of the film, which is broken down into four episodes.
The kid's book will pull from the highest-interest animals to look at two examples per section.
Each migration example will have a lavish photo spread followed by a fact-packed info-graphics spread. Film Outline/"Episode 1: The Need for Speed" - Migrations are races against time.
Seasons change, and freezing temperatures and scorching heat usher in a crisis.
It features: Mississippi Flyway (Long Distance Travelers in huge numbers: Red-Winged blackbirds, Gulls, Diving ducks, White Pelicans, Tundra swans; Birds of Prey: Bald Eagles, Peregrine Falcons); Red Crabs (Millions of Red Crabs wage a timeless battle against Predatory Yellow Crazy Ants and voracious Triggerfish); and, Serengeti - Wildebeest/Crocs (Desperate river crossing by Wildebeest, terrifying crocs feast on the galloping herds; it also features: Zebra, Cheetah, Gazelle, Hyena, Lion, Crocs, Vultures). "Episode 2: The Need to Feed" - The annual search for greener pastures means life must go on the march.
It features: Walrus/Polar Bears (Dramatic predation of Polar Bears on panicked Walrus: as many as 40,000 walrus attacked by 200 polar bears); Army ants - Jungle 'Hot Zone' (Nature's perfect killer: Millions of voracious ants work as one to overwhelm countless other species); and, Whale sharks (World's largest fish feast on the spawn of thousands of Cubera Snapper and other reef fish). "Episode 3: The Need to Lead" - Migrations need generals, admirals and pioneers.
These leaders of the pack must keep teeming hordes in line and on track.
It features: Zebra (Lions) (Mass migration across Botswana reveals unique Zebra herd dynamics and behaviour while battling hungry lions and other voracious predators); Mali Elephants (The Longest, most tortuous elephant migration on the planet.
Living on the edge of the Sahara, the very margins of where elephants can survive, hundreds of elephants live and die on this brutal journey); and, Sperm Whales (Largest toothed mammal migrates to mate and feast on fish; interactions with Dolphins, Swarming Bait balls, other whales, birds, etc.). "Episode 4: The Need to Breed" - Renewing life forces every generation to risk it all.
Migrations compel billions of creatures to wage tortuous journeys en route to spawning seas, beaches and breeding grounds.
It features: White Kob (A species once thought to be lost survives in Southern Sudan); and, Falkland Islands Hot Zone (Aggressive, multi-ton Elephant Seals battle for the right to breed alongside Sea Lions and penguins.
The King of migrations, the albatross, journeys thousands of miles to nest in the Falklands, and get eaten by the Cara Cara, a raptor).
Information
Format:

Hardback

Pages:

48 pages

Publisher:

National Geographic Kids

Publication Date:

29/09/2010

Category: Wildlife (Children's/YA)
ISBN:

9781426307003
Free
Standard Delivery

Within the UK