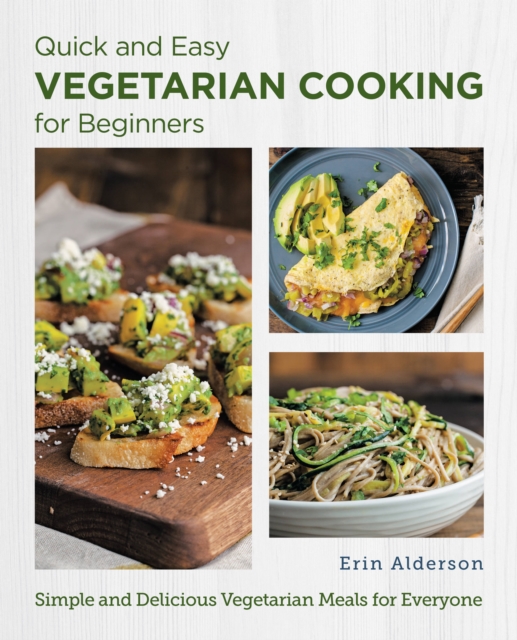 Quick and Easy Vegetarian Cooking for Beginners : Simple and Delicious Vegetarian Meals for Everyone
Paperback / softback
Information

Description

Other Formats
Description
Transition to a vegetarian dietor just add more meat-free meals to your repertoireeasily and deliciously with this collection of simple, affordable, and satisfying go-to recipes.

Greens, beans, fruit, and grains make a healthy and sustainable diet for you and for the earth, but finding vegetable-based recipes that taste delicious and are easy to make is sometimes a challenge, especially if you are new to vegetarianism. Thisabridged and affordableeditionof Erin Alderson's The Easy Vegetarian Kitchenmakes vegetarian cooking accessible and flavorful for anyone who wants to learn to enjoy eating meat-freeeven if it's just some of the time.

Quick and Easy Vegetarian Cooking for Beginners offers tasty and satisfying vegetable-based recipes that will satisfy even the hungriest eaters all day long. Each recipe offers ideas on how to up protein levels, customize taste, and feed your whole familyor just you. Even meat eaters will love these enticing dishes.

This book will help you establish a collection of recipes that you will want to make again and again, offering simple and affordable solutions for a happy and satisfied transition to an all-plant diet. Beans, greens, grains, fruits, and spices make each meal memorable, from breakfast to dinner, plus snacks and desserts.

You will find staple recipes such as salads, sandwiches, stir-fries, casseroles, stews, frittatas, omelets, bars, smoothies, and so much more, which can be easily adapted to seasonal or on-hand ingredients. Core recipes offer cooks an essential pantry list, so eating vegetarian is always easy. Mexican, Italian, and classic American fare are all included for a wide range of options to make vegetarian eating as easy as possible for beginners.

Whatever leads you on your path to a meat-free lifestyle,Quick and Easy Vegetarian Cooking for Beginners is the place to start you new plant-based approach to eating well.
Information
Format:

Paperback / softback

Pages:

144 pages, color photos

Publisher:

New Shoe Press

Publication Date:

25/05/2023

Category:

ISBN:

9780760383667
Information
Format:

Paperback / softback

Pages:

144 pages, color photos

Publisher:

New Shoe Press

Publication Date:

25/05/2023

Category:

ISBN:

9780760383667