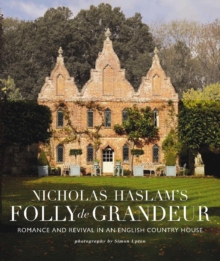 Folly De Grandeur
Hardback
Description
From its humble origins as a Tudor hunting lodge to its present-day status as a protected historic building, Nicky Haslam's delightful 'Folly de Grandeur' is a unique English country house that is one of the renowned decorator's favourite places. In this beautifully illustrated book, Part 1: A History of the House provides a timeline of the house together with an overview of the design aesthetics that characterize Haslam's look.
Part 2: The Essence of Style covers wall finishes, soft furnishings, the transition from room to room, furniture form, style and arrangement, classical elements, and creating tableaux with objets and photographs. In Part 3: A House for All Seasons, you will find a year-round appreciation of this remarkable home, which was once owned by John Fowler, co-founder of Colefax & Fowler.
By recounting events - from society gatherings to quiet country weekends - stories about the rooms, and details about the decoration and furnishings, Haslam reveals the personal touches that give the folly its unique sense of life, both indoors and out. Inviting us into his carefully preserved and lovingly decorated country home, he explains the intricacies and delights of carefully mismatched furniture collected over the years, a colour palette of subtle, warming tones that are quietly welcoming and effortlessly romantic, and a wonderful collection of art that is nothing short of inspirational.
Finally, in Part 4: The Perfect Setting, Haslam shares unique garden design secrets and outdoor 'rooms' that complement his celebrated home.
Free
Standard Delivery

Within the UK