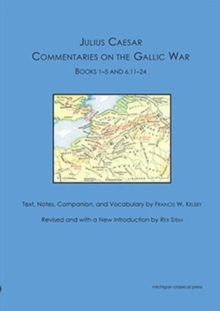 Julius Caesar : Commentaries on the Gallic War
Paperback / softback
Description
Francis W. Kelsey was Professor of Latin at the University of Michigan from 1889 until his death in 1927.
His popular school commentary on Caesar's Gallic War appeared in twenty-one editions in his lifetime.
The expanded edition revised and reprinted here first appeared in 1918. This new edition offers the intermediate/advanced Latin student everything he or she needs in order to be able to read Caesar's Gallic War: the complete Latin text of Books 1-5 and 6.11-24, a grammatical commentary, a Latin-English vocabulary, a Latin grammar cross-referenced to the usage of Caesar, and twelve colour maps illustrating Caesar's campaigns and battles.
No other book provides such completeness or such depth in helping students to read Caesar's Latin with proficiency and confidence. from Preface by Rex StemThis project was undertaken for the simple reason that I wanted to have undergraduate students of Latin read widely from Caesar's Commentaries on the Gallic War and no commentary is in print from which I might do so.
Commentaries on individual books of the Gallic War are available . . . but nothing that presents multiple books in their entirety for college level instruction. Rather than reinvent the wheel, I am bringing back into print the best of the older school commentaries on the Gallic War, namely that published in 1918 by Francis W.
Kelsey. The excellence of Kelsey's work is due to its rigor and completeness.
Not only is the student presented with the complete text of over five (of the seven Caesarian) books of the Gallic War, but he or she also encounters a thorough grammatical (and sometimes historical) commentary, a complete Latin-English vocabulary for all the selections included, and an extensive Latin grammar keyed to the usage of Caesar (which also incorporates a description of the relevant geography and the military terms and practices of Caesar's time).
The intermediate to advanced Latin student in a contemporary college classroom thus finds herein all he or she needs to make rapid progress in accurately comprehending Caesar's Latinity and narrative style.
No other materials are needed.
Free
Standard Delivery

Within the UK