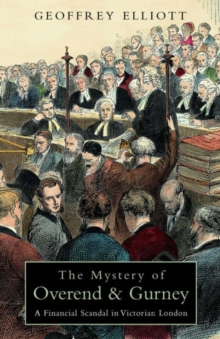 The Mystery of Overend and Gurney : Adventures in the Victorian Financial Underworld
Hardback
Description
This is an entertaining and intriguing account portrait of a period in history and a financial event that was the Barings scandal of its day.
In May 1866, Overend and Gurney, the City of London's leading discount house - with a turnover second only to that of the Bank of England - suspended all payments and provoked a 'panic without parallel in the financial history of England'.
Within three months of the event more than two hundred other companies had collapsed.
Overend and Gurney itself had debts equivalent to GBP 1 billion at today's values.
Remarkably, Overend and Gurney was controlled by a family of quakers, whose religion warns against the 'deceitfulness of riches'.
However, spurred on by a dickensian greed, the directors offloaded their depositors' money into increasingly foolish and desperate ventures promising spectacular short-term profits that never materialised.
When, inevitably, the house of cards came crashing down, investors were outraged, fortunes were lost and the directors were put on trial.
Business was suspended in financial centres across the world and the City of London would never be the same again. In this fast-moving account, Geoffrey Elliott brilliantly evokes the City of London in the mid-Victorian period and populates it with a cast of true-life characters (the birdwatching John Henry Gurney, the sinister Sir Basil Zaharoff and the vengeful Adam Thom) that could have come straight from the pages of "Bleak House".
It features a scandal that was the original Barings.
It presents a brilliant, evocative portrait of Victorian London.
It is published 140 years after the events. It is compared to Malcolm Balen's "A Very English Deceit" (4th Estate).
Information
Format:

Hardback

Pages:

288 pages, illustrations

Publisher:

Methuen Publishing Ltd

Publication Date:

24/08/2006

Category: Economic history
ISBN:

9780413775733
Free
Standard Delivery

Within the UK