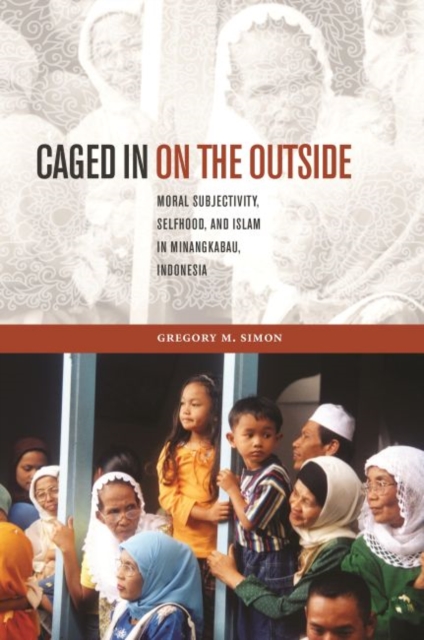 Caged in on the Outside : Moral Subjectivity, Selfhood, and Islam in Minangkabau, Indonesia
Paperback / softback
Description

Information

Other Formats
Description
Caged in on the Outside is an intimate ethnographic exploration of the ways in which Minangkabau people understand human value.
Minangkabau, an Islamic society in Indonesia that is also the largest matrilineal society in the world, has long fascinated anthropologists.
Gregory Simon's book, based on extended ethnographic research in the small city of Bukittinggi, shines new light on Minangkabau social life by delving into people's interior lives, calling into question many assumptions about Southeast Asian values and the nature of Islamic practice.
It offers a deeply human portrait that will engage readers interested in Indonesia, Islam, and psychological anthropology and those concerned with how human beings fashion and reflect on the moral meanings of their lives. Simon focuses on the tension between the values of social integration and individual autonomy-both of which are celebrated in this Islamic trading society.
The book explores a series of ethnographic themes, each one illustrating a facet of this tension and its management in contemporary Minangkabau society: the moral structure of the city and its economic life, the nature of Minangkabau ethnic identity, the etiquette of everyday interactions, conceptions of self and its boundaries, hidden spaces of personal identity, and engagements with Islamic traditions.
Simon draws on interviews with Minangkabau men and women, demonstrating how individuals engage with cultural forms and refashion them in the process: forms of etiquette are transformed into a series of symbols tattooed on and then erased from a man's skin; a woman shares a poem expressing an identity rooted in what cannot be directly revealed; a man puzzles over his neglect of Islamic prayers that have the power to bring him happiness. Applying the lessons of the Minangkabau case more broadly to debates on moral life and subjectivity, Simon makes the case that a deep understanding of moral conceptions and practices, including those of Islam, can never be reached simply by delineating their abstract logics or the public messages they send.
Instead, we must examine the subtle meanings these conceptions and practices have for the people who live them and how they interact with the enduring tensions of multidimensional human selves.
Borrowing a Minangkabau saying, he maintains that whether emerging in moments of suffering or flourishing, moral subjectivity is always complex, organized by ambitions as elusive as being "caged in on the outside."
Information
Format:

Paperback / softback

Pages:

272 pages, 1 black & white image

Publisher:

University of Hawai'i Press

Publication Date:

30/12/2017

Category:

ISBN:

9780824875213
Information
Format:

Paperback / softback

Pages:

272 pages, 1 black & white image

Publisher:

University of Hawai'i Press

Publication Date:

30/12/2017

Category:

ISBN:

9780824875213