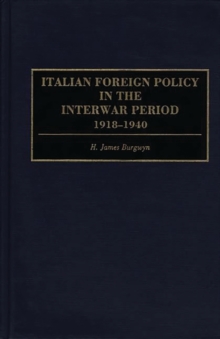 Italian Foreign Policy in the Interwar Period : 1918-1940
Hardback
Description
Italy emerged from the Paris Peace Conference of 1919 with the feeling that it had been denied its just rewards by ungrateful allies and that its victory was thus mutilated.
Integrating this vengefulness into his diplomacy in the 1920s, Mussolini undertook a policy of selected treaty revision aimed at the breakup of the newly created state of Yugoslavia through covert operations.
These stratagems proved futile. Ignoring the threat posed by Nazi Germany's obvious determination to annex Austria, whose continued independence was key to Italy's security in Europe, Mussolini successfully invaded Ethiopia in October 1935, with only lukewarm opposition from France and Britain.
Subsequently, in July 1936, he unwisely intervened on the side of the insurgent general Francisco Franco against the Republican government in Madrid.
Instead of the expected speedy victory, Italy got bogged down in a prolonged civil war, which rendered Mussolini even more dependent on Nazi Germany.
To preserve his standing in Berlin, he did not lift a finger when the Third Reich marched into Austria in 1938.
Convinced of the growing decadence of the Western democracies, Mussolini turned to forge the Rome-Berlin Axis.
But given Italy's military weakness, Mussolini was bound to be Hitler's junior partner.
When the Duce talked of turning the Mediterranean Sea into an Italian lake in February 1939, he found himself trapped in Hitler's military iron cage.
Parity in the Axis was the Duce's own peculiar myth.
When Germany invaded Poland in September 1939, Mussolini declared nonbelligerency since he was in no position to wage war.
He intended to bide his time in order to see who would win or, in the event of a stalemate, to step in as a mediator.
But when the Nazi steamroller crushed France, Mussolini felt he had only one option-war on the side of Germany.
By tying himself to Hitler's war chariot, Mussolini sacrificed the national interests of his country and doomed his Fascist regime to ultimate destruction.
Information
Format:

Hardback

Pages:

240 pages

Publisher:

ABC-CLIO

Publication Date:

16/04/1997

Category: European history
ISBN:

9780275948771
Free
Standard Delivery

Within the UK
Also by H. James Burgwyn
Available with free
standard delivery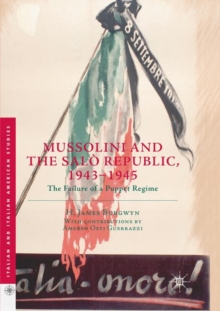 Available with free
standard delivery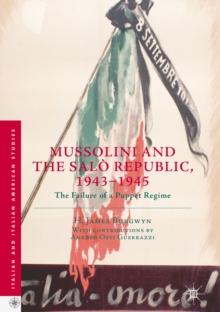 Available for
immediate download