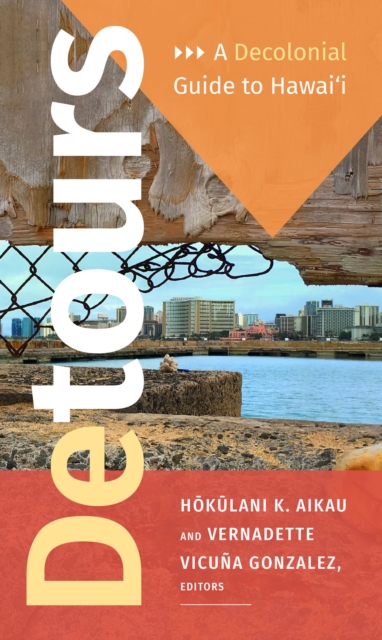 Detours : A Decolonial Guide to Hawai'i
Paperback / softback
Part of the Detours series
Information

Description

Other Formats
Description
Many people first encounter Hawai'i through the imagination-a postcard picture of hula girls, lu'aus, and plenty of sun, surf, and sea.
While Hawai'i is indeed beautiful, Native Hawaiians struggle with the problems brought about by colonialism, military occupation, tourism, food insecurity, high costs of living, and climate change.
In this brilliant reinvention of the travel guide, artists, activists, and scholars redirect readers from the fantasy of Hawai'i as a tropical paradise and tourist destination toward a multilayered and holistic engagement with Hawai'i's culture and complex history.
The essays, stories, artworks, maps, and tour itineraries in Detours create decolonial narratives in ways that will forever change how readers think about and move throughout Hawai'i. Contributors. Hokulani K. Aikau, Malia Akutagawa, Adele Balderston, Kamanamaikalani Beamer, Ellen-Rae Cachola, Emily Cadiz, Iokepa Casumbal-Salazar, David A.
Chang, Lianne Marie Leda Charlie, Greg Chun, Joy Lehuanani Enomoto, S.
Joe Estores, Nicholas Kawelakai Farrant, Jessica Ka'ui Fu, Candace Fujikane, Linda H.
L. Furuto, Sonny Ganaden, Cheryl Geslani, Vernadette Vicuna Gonzalez, Noelani Goodyear-Ka'opua, Tina Grandinetti, Craig Howes, Aurora Kagawa-Viviani, Noelle M.
K. Y. Kahanu, Haley Kailiehu, Kyle Kajihiro, Halena Kapuni-Reynolds, Terrilee N.
Kekoolani-Raymond, Kekuewa Kikiloi, William Kinney, Francesca Koethe, Karen K.
Kosasa, N. Trisha Lagaso Goldberg, Kapulani Landgraf, Laura E. Lyons, David Uahikeaikalei'ohu Maile, Brandy Nalani McDougall, Davianna Pomaika'i McGregor, Laurel Mei-Singh, P.
Kalawai'a Moore, Summer Kaimalia Mullins-Ibrahim, Jordan Muratsuchi, Hanohano Naehu, Malia Nobrega-Olivera, Katrina-Ann R.
Kapa'anaokalaokeola Nakoa Oliveira, Jamaica Heolimelekalani Osorio, No'eau Peralto, No'u Revilla, Kalaniua Ritte, Maya L.
Kawailanaokeawaiki Saffery, Dean Itsuji Saranillio, Noenoe K.
Silva, Ty P. Kawika Tengan, Stephanie Nohelani Teves, Stan Tomita, Mehana Blaich Vaughan, Wendy Mapuana Waipa, Julie Warech
Information
Format:

Paperback / softback

Pages:

448 pages, 101 color illustrations, 5 maps

Publisher:

Duke University Press

Publication Date:

08/11/2019

Category:

ISBN:

9781478006497
Information
Format:

Paperback / softback

Pages:

448 pages, 101 color illustrations, 5 maps

Publisher:

Duke University Press

Publication Date:

08/11/2019

Category:

ISBN:

9781478006497