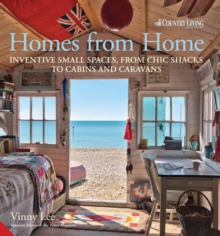 Description
There is an enormous pleasure in having a place where you can get away from it all, a small intimate space where you can live out your fantasies or simply indulge a passion.
This could be a boat moored on an urban waterway or a wilderness shack miles from anywhere, lost among nature.
The book is divided into two main sections, with a wealth of case studies showing a fantastic selection of individual homes from home.
Huts and Hideways includes low-impact buildings, often constructed to blend with their surroundings, made of materials sympathetic to their environment.
They include cabins made from wood, metal and stone or carved from the landscape itself, to treehouses perched in leafy heights.
The second section Homes to Go covers mobile or moveable accommodation, providing temporary shelter in various locations, from vintage shepherd's huts and gleaming airtstream trailors to bell tents and tipis and sleek and compact boats.
Free
Standard Delivery

Within the UK