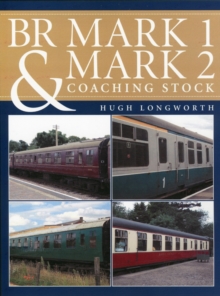 BR Mark 1 and Mark 2 Coaching Stock
Hardback
Description
Following nationalisation in 1948, the newly created British Railways initially continued to construct coaching stock based upon the designs of the 'Big Four' railways.
However, in 1951 the first of the standardised Mark 1 coaches was manufactured; these coaches in their various forms - sleepers, buffet and restaurant cars, horse boxes and other non-passenger vans, griddle cars, suburban non-corridor stock, etc - were built until 1963 and formed the mainstay of the passenger railway through the 1960s and 1970s.
Although now are all withdrawn from regular service, a number remain registered for main-line use through the operation of charter trains whilst significant numbers have also survived into preservation. From the early 1960s development work took place on the replacement standard coaching stock; the result was the Mark 2 that was launched in 1964.
Built over the next decade, the Mark 2 was constructed in several different variants up to the Mark 2F.
Each of these variants saw distinct improvements to the facilities differed although retaining the same basic outline. As with the Mark 1 coaches, the Mark 2s are now largely withdrawn, although a handful remain in main-line service such as those on the Arriva Trains Wales' Holyhead-Cardiff service; others have entered preservation. This book is a follow-up volume to Hugh Longworth's earlier encyclopaedic studies of steam locomotives and DMUs.
Each individual coach is listed, according to Lot numbers, with information about where they were built, introduction, withdrawal and fate.
Alongside the tabular material will be a selection of mono photographs portraying the various types of coach being described. BR Mark 1 and Mark 2 coaches are widely preserved and can be seen at most of the major heritage railways across the country including The Bluebell, the Great Central Railway, North Yorkshire Moors Railway, Swanage Railway and West Somerset Railway.
Free
Standard Delivery

Within the UK