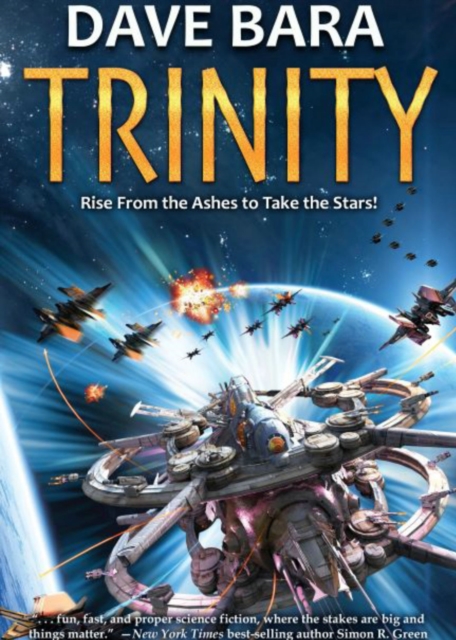 Trinity
Paperback / softback
Description

Information

Other Formats
Description
REDEMPTION AT TRINITYThe Rim rebellion was glorious-and doomed from the start.
Brilliant Rim Confederation Navy spaceship captain Jared Clement scuttled his career and professional life by joining the rebels against the overwhelming force of the 5 Suns Alliance.
The rebel cause was just. That didn't matter. Ten years later, Clement regrets nothing - and would prefer to be left alone to his thoughts and drink.
But a new chance to command a ship of incredible potential is thrust in his lap-humanity's first truly faster-than-light vessel.
The destination: Trinity, a newly discovered star system where strange signs of possible spacefarers may lead to humanity's first alien encounter. Or to interstellar war. Humanity is on the brink of a new age, and everything depends on one crusty starship captain, his gritty crew, and the Beauregard, a ship that was never meant to wage war turned into a weapon-bristling battleship that will either propel humanity to ultimate destruction or into a new starfaring age of exploration and conflict. And along the way, a noble lost cause-one Captain Jared Clement-may finally get his revenge. And find his redemption. About Trinity:"[A] rousing. . . far-future tale, taking hard-drinking former Rim Confederacy Navy Capt.
Jared Clement of the gunship Beauregard into a whopper of a galactic confrontation. . . . [with] Clement's rebirth as an idealistic military commander, leading to breathless Horatio Hornblower-type ship-to-ship action updated into a Star Trek-like environment. . . [with] plenty of fun, derring-do, and even some tension-relieving fraternization will keep readers invested in Clement and crew.
This is an entertaining escape from the here and now."-Publishers WeeklyAbout Dave Bara:". . . fun, fast, and proper science fiction, where the stakes are big and things matter."-New York Times best-selling author Simon R.
Green on Dave Bara's Lightship Chronicles Series"This energetic melange of tried-and-true elements-futuristic jargon, military and romantic tactics, and multiple levels of skullduggery-easily grabs the reader's attention; more impressive is that Bara's story holds that attention all the way to the end." -Publishers Weekly on The Lightship Chronicles Series"Bara manages to ramp up the depth and complexity of his world while retaining that sense of excitement, suspense, and adventure." -Barnes & Noble Sci Fi & Fantasy Blog
Information
Format:

Paperback / softback

Pages:

400 pages

Publisher:

Baen Books

Publication Date:

10/10/2022

Category:

ISBN:

9781982192228
Information
Format:

Paperback / softback

Pages:

400 pages

Publisher:

Baen Books

Publication Date:

10/10/2022

Category:

ISBN:

9781982192228